---
WARBIRD REGISTRY
>
L-4 GRASSHOPPER
>
PREVIOUS PAGE
---
The Piper J-3 Cub is a small, simple, light aircraft that was built between 1937 and 1947 by Piper Aircraft. With tandem (fore and aft) seating, it was intended for flight training but became one of the most popular and best-known light aircraft of all time. The Cub's simplicity, affordability and popularity invokes comparisons to the Ford Model T automobile.
The L-4 Grasshopper was mechanically identical to the J-3 civilian Cub, but was distinguishable by the use of a Plexiglas greenhouse skylight and rear windows for improved visibility, much like the Taylorcraft L-2 and Aeronca L-3 also in use with the US armed forces. Carrying a single pilot and no passenger, the L-4 had a top speed of 85 mph (137 km/h), a cruise speed of 75 mph (121 km/h), a service ceiling of 12,000 ft (3,658 m), a stall speed of 38 mph (61 km/h), an endurance of three hours, and a range of 225 mi (362 km). 5,413 L-4s were produced for U.S. forces, including 250 built for the U.S. Navy under contract as the NE-1 and NE-2.
Below is a list of airframes that survived military service.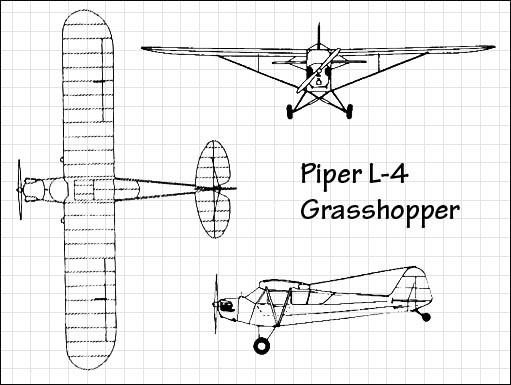 ---
WARBIRD REGISTRY
>
L-4 GRASSHOPPER
>
PREVIOUS PAGE
---