---
WARBIRD REGISTRY
>
A-20 HAVOC REGISTRY
>
PREVIOUS PAGE
---
A-20 Havoc/43-22210
---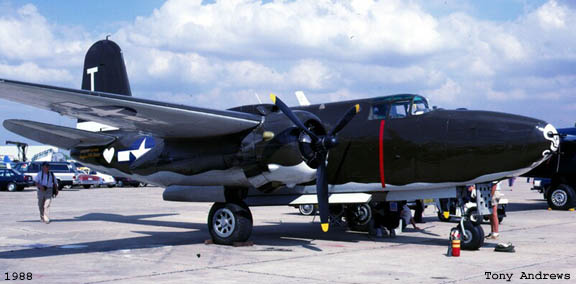 ---
Serial #: 43-22210
Construction #: 21857
Civil Registration:
NL67921
N67921

Model(s):
A-20G Havoc
Name: None
Status: Destroyed
Last info: 1988

---
History:
Hearst Magazines Inc, San Francisco, CA, June 3, 1946-1948.
- Registered as NL67921, February 12, 1948.
W.G. Spillman, Burbank, CA, January 30, 1950 - Registered as N67921.
Thorne Engineering Corp, Las Vegas, NV, January 9, 1952-1956.
Roberts Aircraft Co, Reno, NV, April 27, 1956-1958.
W. Lynn Roberts/Roberts Aircraft Co, Boise, ID, May 12, 1958-1959.
- Used as sprayer.
Ray C. Wilcox, Boise, ID, July 8, 1959-1965.
Donald C. Magnuson & Ralph E. Knight Aircraft Service & Repair Co, Boise, ID, April 14, 1965.
- Retired and parked, Boise, ID, circa 1959-1966.
Confederate Air Force
, Harlingen, TX, October 5, 1965-1988.
- Ferried Boise-Harlingen, TX, September 12, 1966.
- Restored to airworthy, 1971-1976.
- First flight as 322210/T, 1976.
- Crashed and destroyed, near Harlingen, TX, October 8, 1988.
-- NTSB report below.
---
Accident Report:
Accident occurred Saturday, October 08, 1988 at SAN BENITO, TX
Aircraft:DOUGLAS A-20G, registration: N67921
Injuries: 1 Fatal.

THE 70 YR OLD PLT WAS FLYING A DOUGLAS A-20 IN A FLT OF 3 ACFT AT AN AIRSHOW (CONFEDERATE AIR FORCE 'AIRSHOW 88'). AFTER FLYING ON A SOUTHERLY HDG, THE FLT ENTERED A PROCEDURE TURN WHICH INVOLVED A 90 DEG LEFT TURN TO THE EAST FOLLOWED BY A 270 DEG RGT TURN BACK NORTHBOUND. WHILE MNVRG, THE A-20 ENTERED A RIGHT DESCENDING TURN & SUBSEQUENTLY CRASHED ON LEVEL TERRAIN IN A RELATIVELY WINGS LEVEL DESCENT. THE MAIN WRECKAGE CAME TO REST ABOUT 225' FROM THE INITIAL IMPACT POINT. ACCORDING TO A PATHOLOGICAL RPRT, THE PLT HAD SEVERE CORONARY ARTERIOSCLEROSIS & SUFFERED A HEART ATTACK.
The National Transportation Safety Board determines the probable cause(s) of this accident as follows.
INCAPACITATION OF THE PILOT WHILE FLYING AN AIRCRAFT DUE TO LOSS OF CONSCIOUSNESS FROM A CARDIAC RHYTHM DISTURBANCE.
---
Source(s):
Chapman, John & Goodall, Geoff, Edited by Paul Coggan - Warbirds Directory,Warbirds Worldwide Ltd., Mansfield, England, 1989.
Goodall, Geoff - Warbirds Directory-4th Edition, 2003.
NTSB, www.ntsb.gov

Photo Source(s):
Tony Andrews


---

Research Assistance:
-

---
WARBIRD REGISTRY
>
A-20 HAVOC REGISTRY
>
PREVIOUS PAGE
---