---
WARBIRD REGISTRY
>
TEXAN/SNJ/HARVARD REGISTRY
>
PREVIOUS PAGE
---
TEXAN/53-4618
---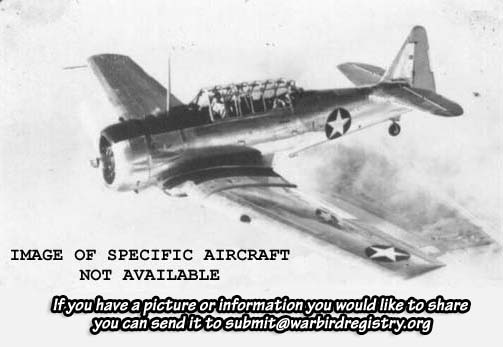 ---
Serial #: 53-4618
Construction #:
CCF-537
Civil Registration:
D-FABI
N73688
F-BRGA
F-AZFC

Model(s):
T-6J Texan
Name: None
Status: Wrecked
Last info: 1993

---
History:
Delivered to to Luftwaffe as AA+628, 19??.
Federal Republic of Germany, Bonn, Germany, October 1963-1964.
- Registered as D-FABI.
Registration N73688 reserved but not taken up.
Institute Aeronautique Amaury de la Grange, Merville, France, July 1973-1977.
- Registration F-BRGA reserved.
- Stored as instructional airframe, Merville, 1977.
Salis Aviation, La Ferte-Alais, France, 1982.
Paul Franceschi/Escadrille Mercure, Le Castellet, March 15, 1988-1993.
- Registered as F-AZFC.
- Restored to airworthy.
- Flew as Aeronavale 25/54.S.
- Crashed and destroyed, Le Catellet, January 21, 1993.
---
Source(s):
Chapman, John & Goodall, Geoff, Edited by Paul Coggan - Warbirds Directory,Warbirds Worldwide Ltd., Mansfield, England, 1989.
Goodall, Geoff - Warbirds Directory-4th Edition, 2003.
Federal Aviation Administration.
Photo Source(s):
None.

---
WARBIRD REGISTRY
>
TEXAN/SNJ/HARVARD REGISTRY
>
PREVIOUS PAGE
---