---
WARBIRD REGISTRY
>
TEXAN/SNJ/HARVARD REGISTRY
>
PREVIOUS PAGE
---
TEXAN/52-8216
---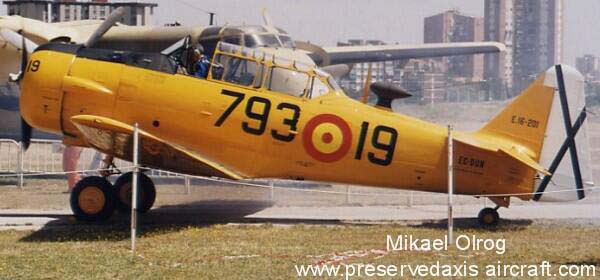 ---
Serial #: 52-8216
Construction #:
197-20
Civil Registration:
EC-DUN

Model:
T-6G Texan
Name: None
Status: Airworthy
Last info: 2002

---
History:
Delivered to Armee de l'Air as 28216, 19??.
Delivered to Ejercito del Aire as E.16-201, 1965.
- Stored in Museo del Aire compound, Cuatro Vientos, Spain, 1983-85.
Club de Deporte Aereos SA, Sabadell, Spain, July 2, 1984-1988.
- Registered as EC-DUN.
Carlos Torralbo/Fundacion Infante de Orleans
, Cuatro Vientos AB, Madrid, Spain, 1990-2002.
- Flown as "E.16-201/793-19".
---
Source(s):
Chapman, John & Goodall, Geoff, Edited by Paul Coggan - Warbirds Directory,Warbirds Worldwide Ltd., Mansfield, England, 1989.
Goodall, Geoff - Warbirds Directory-4th Edition, 2003.
Photo Source(s):
Mikael Olrog - www.preservedaxisaircraft.com

---
WARBIRD REGISTRY
>
TEXAN/SNJ/HARVARD REGISTRY
>
PREVIOUS PAGE
---