---
WARBIRD REGISTRY
>
TEXAN/SNJ/HARVARD REGISTRY
>
PREVIOUS PAGE
---
TEXAN/49-3359
---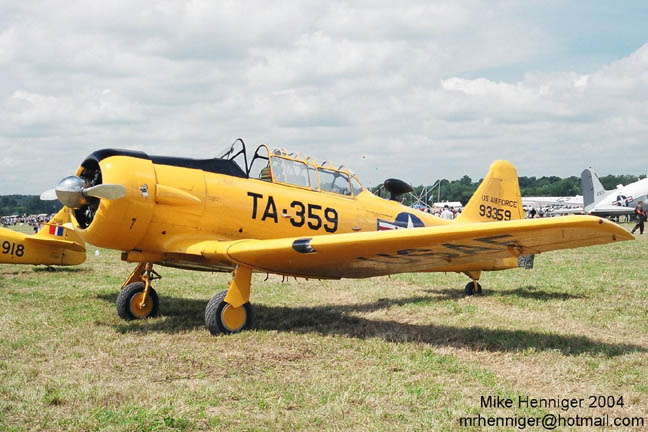 ---
Serial #: 49-3359
Construction #:
168-472
Civil Registration:
N5830R
N44FL

Model:
T-6G Texan
Name: None
Status: Airworthy
Last info: 2004

---
History:
Delivered to Ejercito del Aire as E16-95, 19??.
- Stored in Museo del Aire compound, Cuatro Vientos, Spain, 1982-1983.
Dodson Aviation Inc, Ottawa, KS, November 19, 1984.
- Registered as N5830R.
Joseph M. Natoli, Nokesville, VA, 1986.
Karl Stoltzfus/K&K Aircraft, Bridewater, VA, October 1986-1995.
Robert C. Tullius
, Sebring, FL, March 10, 1997-2002.
- Registered as N44FL.
- Damaged in landing accident, Wilington, NC, April 4, 1997.
---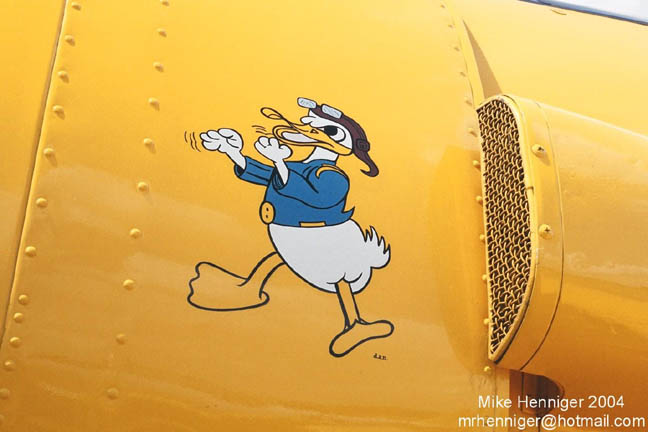 ---
NTSB Identification: MIA97LA117 .
The docket is stored in the Docket Management System (DMS). Please contact Public Inquiries
14 CFR Part 91: General Aviation
Accident occurred Friday, April 04, 1997 in WILMINGTON, NC
Probable Cause Approval Date: 825/1997
Aircraft: North American T6G, registration: N44FL
Injuries: 2 Uninjured.

The pilot stated he was landing with a crosswind. The airplane touched down twice and veered to the right. The pilot applied full left rudder and right aileron. The airplane continued to the right off the runway. The left main landing gear collapsed and the left wing tip collided with the ground. Disassembly of the brake assemblies revealed no abnormal conditions. The pilot indicated he has 13 total hours in aircraft type.

The National Transportation Safety Board determines the probable cause(s) of this accident as follows:
The pilot's failure to maintain directional control on landing. Factors were: the crosswind and the pilot's lack of experience in type airplane.

---
Source(s):
Goodall, Geoff - Warbirds Directory-4th Edition, 2003.
Chapman, John & Goodall, Geoff, Edited by Paul Coggan - Warbirds Directory,Warbirds Worldwide Ltd., Manfield, England, 1989.
National Transportation Safety Board/NTSB
Photo Source(s):
Mike Henniger.

---
WARBIRD REGISTRY
>
TEXAN/SNJ/HARVARD REGISTRY
>
PREVIOUS PAGE
---