---
WARBIRD REGISTRY
>
TEXAN/SNJ/HARVARD REGISTRY
>
PREVIOUS PAGE
---
TEXAN/44-81252
---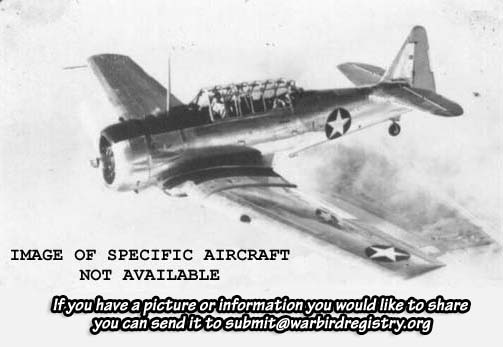 ---
Serial #: 44-81252
Construction #:
121-41974
Civil Registration:
N1974M

Model(s):
AT-6D Texan
SNJ-5
Name: None
Status (2007): Airworthy
Last info: 2008

---
History:
Ralph W. Farish, Jacksonville, FL, 1963.
- Registered as N1974M.
Jack Adams Aircraft Sales, Walls, MS, 1963-1964.
Edward M. Banta, Fayetteville, NC, 1969-1970.
Collided with AT-6D/42-85520/N1046C at during air race, Cape May, NJ, June 5, 1971.
- Crashed and destroyed.
Robert L. Phillips, Wilkesboro, NC, October 1995-1999.
- Reregistered as N1974M.
Walter A. Newton, North Wilksboro, NC, March 8, 2000-2002.
James Griffin, Tulsa, OK, May 26, 2004-2008.
---
Source(s):
Chapman, John & Goodall, Geoff, Edited by Paul Coggan - Warbirds Directory,Warbirds Worldwide Ltd., Mansfield, England, 1989.
Goodall, Geoff - Warbirds Directory-4th Edition, 2003.
Federal Aviation Administration, www.faa.gov, 2008.

Photo Source(s):
None


---

Research Assistance:
-

---
WARBIRD REGISTRY
>
TEXAN/SNJ/HARVARD REGISTRY
>
PREVIOUS PAGE
---