---
WARBIRD REGISTRY
>
TEXAN/SNJ/HARVARD REGISTRY
>
PREVIOUS PAGE
---
AT-16/43-13163
---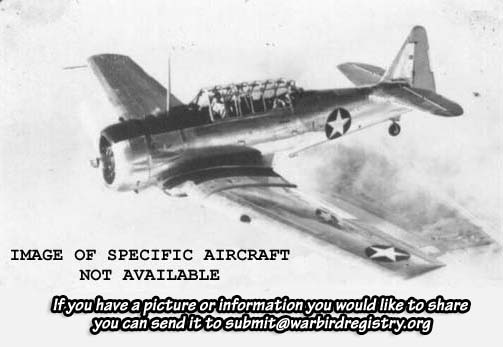 ---
Serial #: 43-13163
Construction #:
14A-1462
Civil Registration:
None

Model(s):
AT-16
Harvard Mk. IIb
Name: None
Status: Displayed
Last info: 2002

---
History:
Delivered to Royal Air Force as FT422.
-
BOC:
February 1944.
-
SOC:
1947.
Delivered to Royal Netherlands AF as B-67, June 1947-1972.
- Instructional airframe, Deelen AB, circa 1972.
Musee Royal de l'Armee, Brussels, Belgium, circa 1987-1991.
- Stored, pending restoration, Tieln, Belgium.
Letecka Expozice Vojenskeho Muzea, Kbely AB, Prague, Czech Republic, 1999-2002.
- Displayed as RAF/FT422.
---
Source(s):
Goodall, Geoff - Warbirds Directory-4th Edition, 2003.

Photo Source(s):
-


---

Research Assistance:
-

---
WARBIRD REGISTRY
>
TEXAN/SNJ/HARVARD REGISTRY
>
PREVIOUS PAGE
---