---
WARBIRD REGISTRY
>
TEXAN/SNJ/HARVARD REGISTRY
>
PREVIOUS PAGE
---
TEXAN/42-85897
---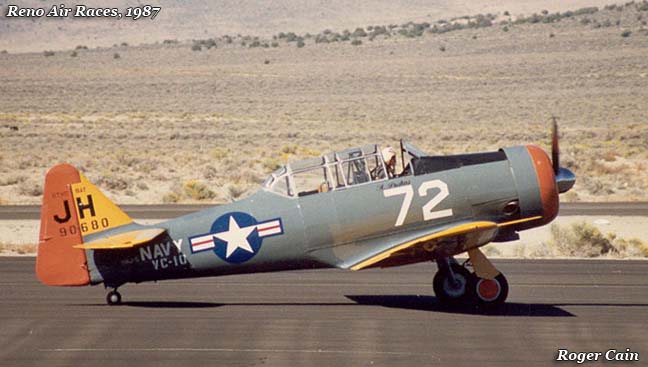 ---
Serial #: 42-85897
Construction #:
88-17678
Civil Registration:
N6972C

Model(s):
AT-6D Texan
SNJ-5
Name: None
Status: Airworthy
Last info: 2002

---
History:
Delivered to U.S. Navy as SNJ-5/Bu. 90680, 19??.
Edward J. Mitchell, San Carlos, CA, 1963-1966.
- Registered as N6972C.
Harold W. Jolliff, Modesto, CA, 1969-1977.
James K. Fox/ Warbirds West, Compton, CA, 1984-1992.
- Flew as race #72/Terrible Texan in USN scheme as 90680.
- Crashed in street on takeoff, Compton, February 22, 1989.
- Rebuilt using parts from Uruguayan AF T-6G.
Tom L. Jack/Jack Aircraft Sales, Franklin, PA, February 1992-1995.
Lost in the Forties Aviation, Wilmington, DE, December 1996-1999.
J & M Airsports Inc
, Santa Rosa Beach, FL, April 11, 2000-2002.
---

---
Source(s):
Chapman, John & Goodall, Geoff, Edited by Paul Coggan - Warbirds Directory,Warbirds Worldwide Ltd., Mansfield, England, 1989.
Goodall, Geoff - Warbirds Directory-4th Edition, 2003.
Federal Aviation Administration, www.faa.gov, Washington D.C., 2005.
Photo Source(s):
Roger Cain.
Mike R. Henniger.

---
WARBIRD REGISTRY
>
TEXAN/SNJ/HARVARD REGISTRY
>
PREVIOUS PAGE
---