---
WARBIRD REGISTRY
>
TEXAN/SNJ/HARVARD REGISTRY
>
PREVIOUS PAGE
---
TEXAN/41-34016
---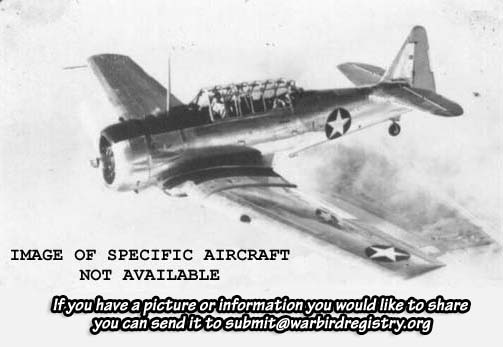 ---
Serial #: 41-34016
Construction #:
88-15333
Civil Registration:
None

Model(s):
AT-6D Texan
Harvard Mk. III
Name: None
Status: Unknown
Last info: 1993

---
History:
Built for USAAC as 41-34016, 19??.
Allocated to RAF as EZ143, 19??.
Delivered directly to South African AF as 7570, March 1944-1975.
South African AF Museum, 1975-1992.
- Restored to static display by Atlas Aircraft Apprentice School, Johannesburg-Jan Smuts, 1977-1979.
- Loaned to Atlas Aircraft Co, Bonaero Park, 1992.
Safai Technical School, Jan Smuts, 1993.
---
Source(s):
Goodall, Geoff - Warbirds Directory-4th Edition, 2003.

Photo Source(s):
-


---

Research Assistance:
-

---
WARBIRD REGISTRY
>
TEXAN/SNJ/HARVARD REGISTRY
>
PREVIOUS PAGE
---