---
WARBIRD REGISTRY
>
TEXAN/SNJ/HARVARD REGISTRY
>
PREVIOUS PAGE
---
TEXAN/"49-3829"*
---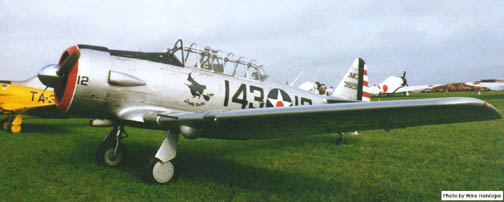 ---
Serial #: "49-3829"*
Construction #:
168-393
Civil Registration:
N27409

Model(s):
AT-6D Texan
T-6G Texan
Name: Double Trouble
Status: Airworthy
Last info: 2002

---
History:
Delivered to Ejercito del Aire as ???, 19??.
Combat Aircraft Inc, Elkhart, IN, May 20, 1982.
- Registered as N27409.
Jeff Clyman/QRD Equipment Corp
, New York, NY, February 24, 1986-2002.
- Flown as 49-3829/JMC-3829/143-12.
---
*FAA lists serial as 49-3829, there is some doubt if this is accurate as this is beyond the known serial ranges..
---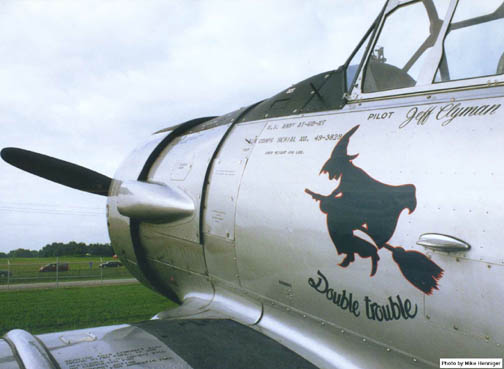 ---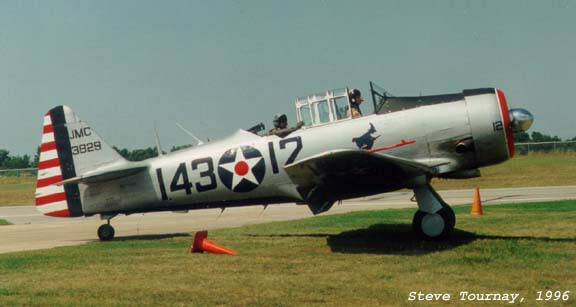 ---
Source(s):
Chapman, John & Goodall, Geoff, Edited by Paul Coggan - Warbirds Directory,Warbirds Worldwide Ltd., Mansfield, England, 1989.
Goodall, Geoff - Warbirds Directory-4th Edition, 2003.
Federal Aviation Administration.
Photo Source(s):
Mike R. Henniger.
Steve Tournay.

---
WARBIRD REGISTRY
>
TEXAN/SNJ/HARVARD REGISTRY
>
PREVIOUS PAGE
---