---
WARBIRD REGISTRY
>
TEXAN/SNJ/HARVARD REGISTRY
>
PREVIOUS PAGE
---
TEXAN/42-85880
---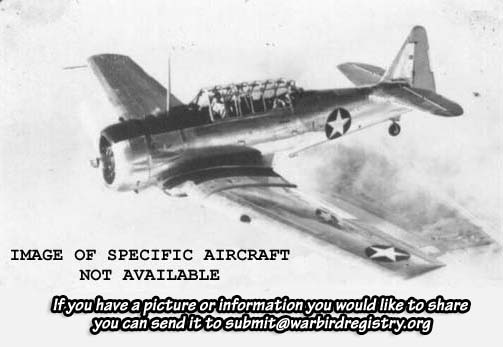 ---
Serial #: 42-85880
Construction #:
88-17661
Civil Registration:
N3633F
VH-USS

Model(s):
AT-6D Texan
SNJ-5B
Name: None
Status: Unknown
Last info: 2002

---
History:
Delivered to USN as SNJ-5B/Bu. 90663
Jack Toll, Golden, CO, 1963-1964.
- Registered as N3633F.
George C. Nesbitt, Littleton, CO, 1966.
Ray G. Smith, Denver, CO, 1969.
Parcel Oil Co, Aberdeen, SC, 1970-1972.
Phillip D. Bostwick, Bethesda, DC, 1976-1984.
Richard H. Ferrell, New Iberia, LA, 1986.
Removed from USCR, May 16, 1989, Reason: Sold to Australian owner.
Colin M. Rodgers, Sydney, New South Wales, Australia, July 1989-2002.
- Registered as VH-USS, February 7, 1991.
---
Source(s):
Chapman, John & Goodall, Geoff, Edited by Paul Coggan - Warbirds Directory,Warbirds Worldwide Ltd., Mansfield, England, 1989.
Goodall, Geoff - Warbirds Directory-4th Edition, 2003.

Photo Source(s):
-


---

Research Assistance:
-

---
WARBIRD REGISTRY
>
TEXAN/SNJ/HARVARD REGISTRY
>
PREVIOUS PAGE
---