---
WARBIRD REGISTRY
>
TEXAN/SNJ/HARVARD REGISTRY
>
PREVIOUS PAGE
---
TEXAN/42-85520
---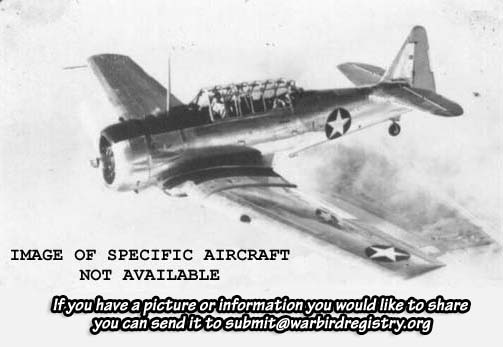 ---
Serial #: 42-85520
Construction #:
88-17301
Civil Registration:
N1046C

Model(s):
AT-6D Texan
SNJ-5
Name: None
Status: Crashed
Last info: 1981

---
History:
Delivered to USN as Bu 85080
Conrad K. Warren, Deer Lodge, MT, 1963-1964
- Registered as N1046C.
Wayne J. Rogers, Bradley, OK, 1966
Don C. Barrett, Dallas/Valley View, TX, 1969-1977
- Flew as race #10.
- Collided with
T-6/44-81252/N1974M
at pylon turn during air race,
landed safely, Cape May, NJ, June 5, 1971.
Kale B. Webster, Odessa, TX, 1981-1984
- Destroyed, spun into ground during dog-fight, Wall, TX, July 4, 1981
---
Source(s):
Chapman, John & Goodall, Geoff, Edited by Paul Coggan - Warbirds Directory,Warbirds Worldwide Ltd., Mansfield, England, 1989.
Goodall, Geoff - Warbirds Directory-4th Edition, 2003.
Federal Aviation Administration, www.faa.gov, 2008.

Photo Source(s):
None


---

Research Assistance:
-

---
WARBIRD REGISTRY
>
TEXAN/SNJ/HARVARD REGISTRY
>
PREVIOUS PAGE
---