---
WARBIRD REGISTRY
>
TEXAN/SNJ/HARVARD REGISTRY
>
PREVIOUS PAGE
---
TEXAN/42-84990
---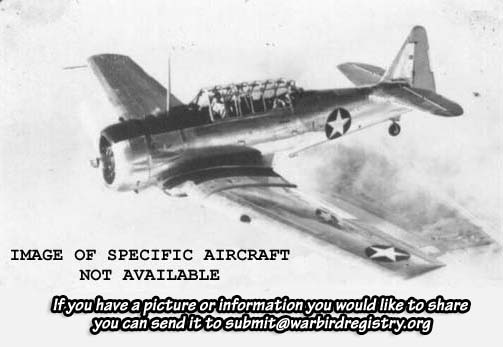 ---
Serial #: 42-84990
Construction #:
88-16771
Civil Registration:
N3674F

Model(s):
AT-6D Texan
SNJ-5
Name: None
Status: Unknown
Last info: 2002

---
History:
Built for USAAF as 42-84990, 19??.
Delivered to USN as SNJ-5/Bu. 84910, 19??.
John P. Graff, Canyonwood, PA, 1963.
- Registered as N3674F.
Atlantic Aviation Service, Philadelphia, PA, 1963-1964.
City of New York Board of Education, Long Island City, NY, 1966-2002.
---
Source(s):
Chapman, John & Goodall, Geoff, Edited by Paul Coggan - Warbirds Directory,Warbirds Worldwide Ltd., Mansfield, England, 1989.
Goodall, Geoff - Warbirds Directory-4th Edition, 2003.
Federal Aviation Administration, www.faa.gov, Washington D.C., 2005.
Photo Source(s):
None.

---
WARBIRD REGISTRY
>
TEXAN/SNJ/HARVARD REGISTRY
>
PREVIOUS PAGE
---