---
WARBIRD REGISTRY
>
TEXAN/SNJ/HARVARD REGISTRY
>
PREVIOUS PAGE
---
TEXAN/41-33565
---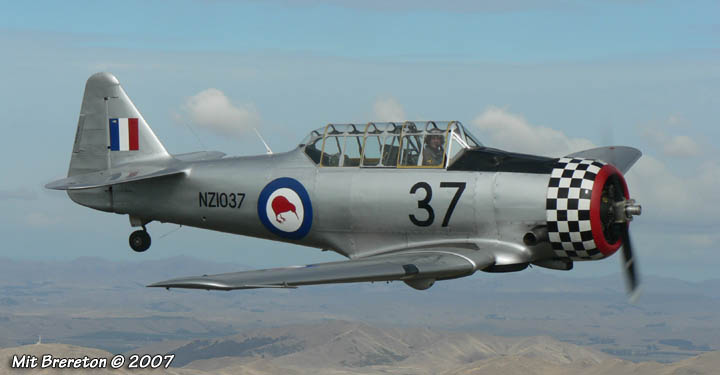 ---
Serial #: 41-33565
Construction #:
88-12036
Civil Registration:
ZK-ENA

Model(s):
AT-6C Texan
Harvard Mk. IIa
Name: None
Status: Airworthy
Last info: 2007

---
History:
Built for USAAF as 41-33565, 1943.
Delivered to RAF as EX592, 19??.
- Transferred to RNZAF while on production line.
Delivered to RNZAF as NZ1037.
– BOC: April 20 1943.
– SOC: July 5, 1978.
– Shipped to New Zealand on "Vessel 27", April 1943.
– Assembled at Hobsonville.
– Allocated to the Central Flying School, Tauranga, early 1944.
– Damaged after colliding with NZ1024 while taxying, June 19, 1945.
– Transferred to No.2 (Territorial Air Force) Squadron, December 19, 1950.
– Allocated to station strength at Ohakea.
— Damaged when wing tip connected with a hangar at Ohakea, March 29, 1952.
— Used in Air Weapons, June 1952.
— Damaged after colliding with a marker light at Whenuapai, March 10, 1956.
– Sold by Government Stores Board tender number 022108.
John Mathewson, Ardmore/Ranfurly, NZ, June 20, 1978-1997.
– Registered as ZK-ENA.
William J. Mathewson, Ranfurly, NZ, April 17-1997-2002.
Ray Hanna/Brenden Throw, July 2005.
ITL Aviation
, Fielding, NZ, November 2006-2007.
---
Source(s):
Chapman, John & Goodall, Geoff, Edited by Paul Coggan - Warbirds Directory,Warbirds Worldwide Ltd., Mansfield, England, 1989.
Goodall, Geoff - Warbirds Directory-4th Edition, 2003.

Photo Source(s):
Mit Brereton via Brendon Deere


---

Research Assistance:
Brendon Deere/ITL Aviation

---
WARBIRD REGISTRY
>
TEXAN/SNJ/HARVARD REGISTRY
>
PREVIOUS PAGE
---