---
WARBIRD REGISTRY
>
TEXAN/SNJ/HARVARD REGISTRY
>
PREVIOUS PAGE
---
HARVARD/KF435
---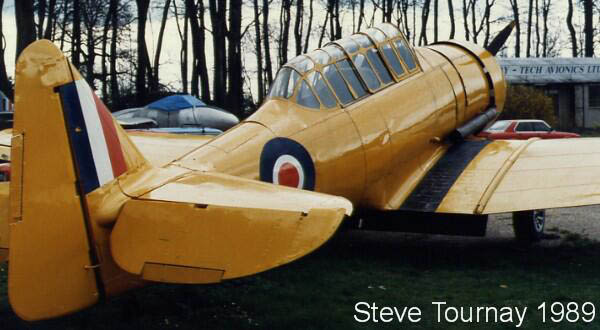 ---
Serial #: KF435
Construction #:
14A-2135
Civil Registration:
None

Model(s):
Harvard Mk. IIb
Name: None
Status: Restoration
Last info: 1993

---
History:
Delivered to Royal Air Force as KF435.
-
BOC:
1944.
-
SOC:
1957.
Skylines Scrap Metal, Sandhurst, UK, September 1957-1985.
- Acquired as scrap, stored.
Barry Parkhouse, Camberley, UK, January 1985-1987.
- Arrived dismantled, fuselage only.
Booker Aircraft Museum
, Booker, UK, February 29, 1987-1993.
- Arrived dismantled.
- Composite restoration for static display using starboard wing of FX350
and port wing of Royal Netherlands AF airframe.
---
Source(s):
Chapman, John & Goodall, Geoff, Edited by Paul Coggan - Warbirds Directory,Warbirds Worldwide Ltd., Mansfield, England, 1989.
Photo Source(s):
Steve Tourney, 1989.

---
WARBIRD REGISTRY
>
TEXAN/SNJ/HARVARD REGISTRY
>
PREVIOUS PAGE
---