---
WARBIRD REGISTRY
>
T-28 TROJAN REGISTRY
>
PREVIOUS PAGE
---
T-28 TROJAN/51-7606
---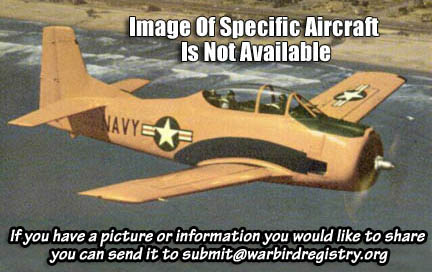 ---
Serial #: 51-7606
Construction #:
174-459
Civil Registration:
N9103F

Model(s):
T-28A Trojan
Fennec
Name: None
Status: Unknown
Last info: 1992

---
History:
Delivered to L'Armee de l'Air as Fennec No. 136, 19??.
Delivered to Argentine Navy as ???, 1966.
Westair International USA Inc, Monument, CO, July 1987-1988.
- Registered as N9103F.
Richard D. Janitell, Colorado Springs, CO, 1992.
---
Source(s):
Chapman, John & Goodall, Geoff -
Warbirds Directory
,Warbirds Worldwide Ltd., Manfield, England, 1989.
Photo Source(s):
None.
---
WARBIRD REGISTRY
>
T-28 TROJAN REGISTRY
>
PREVIOUS PAGE
---