---
WARBIRD REGISTRY
>
T-28 TROJAN REGISTRY
>
PREVIOUS PAGE
---
T-28 TROJAN/51-3616
---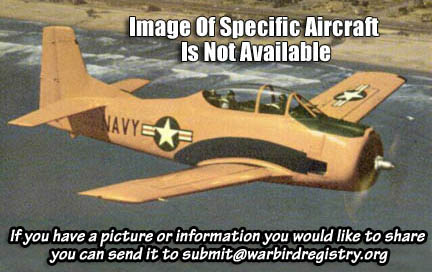 ---
Serial #: 51-3616
Construction #:
174-154
Civil Registration:
N1384T
N28TW

Model(s):
T-28A Trojan
T-28D-5
Name: None
Status: Crashed
Last info: 1983

---
History:
Registered as N1384T by ???, ???.
844 Squadron Inc, Boulder, CO, September 1982-1983.
- Registered as N28TW.
- Crashed into mountain, Winter Park, CO, February 12, 1983.
---
NTSB Identification: DEN83FA058.
The docket is stored on NTSB microfiche number 20993.
Accident occurred Saturday, February 12, 1983 in N. WINTER PARK, CO
Aircraft: NORTH AMERICAN T-28A, registration: N28TW
Injuries: 1 Fatal,1 Serious.
NTSB investigators either traveled in support of this investigation or conducted a significant amount of investigative work without any travel, and used data obtained from various sources to prepare this aircraft accident report.
ACCORDING TO THE SURVIVING PASSENGER (THE PLT'S 15 YR OLD SON), THEY SAW SOME SKIERS AFTER CROSSING OVER A MOUNTAIN PASS. HE STATED THAT AS THEY TURNED, HIS FATHER SAID, 'LET'S BUZZ THEM.' HE REPORTED THAT THEY TURNED SHARPLY, 'SORT OF DOVE DOWN TO BUZZ THEM,' THEN THAT WAS ALL HE COULD REMEMBER. ACCORDING TO ONE OF THE SKIERS THAT WAS FAMILIAR WITH T-28 ACFT, THEY HEARD & SAW THE T-28 CROSS ROLLINS PASS AT APRX 300 TO 350 FT AGL. AS THE ACFT PASSED, THEY WAVED AT IT & THEN THE PLT RESPONDED (THEY BELIEVED) BY ROCKING HIS WINGS. SOON AFTER THAT, THE ACFT WENT INTO A STEEP LEFT BANK AS IF TO TURN BACK TOWARD THEM. THE WITNESS REPORTED THAT THE ACFT WAS TURNING AT A CONSTANT ALTITUDE, WHEN THE NOSE SUDDENLY DROPPED. THE PLT LEVELED THE WINGS & THE ACFT STARTED A DIVE, THEN DISAPPEARED FROM HIS VIEW, BEHIND A RIDGE. HE HEARD POPPING SOUNDS THAT HE THOUGHT SOUNDED LIKE A T-28 HAVING HAD THE THROTTLE MOVED RAPIDLY. AN INVESTIGATION REVEALED THE ACFT HAD COLLIDED WITH TREES & CRASHED. NO PREIMPACT/MECHANICAL FAILURES FOUND.
The National Transportation Safety Board determines the probable cause(s) of this accident to be:
ALTITUDE..MISJUDGED..PILOT IN COMMAND
The National Transportation Safety Board determines the probable cause(s) of this accident to be:
AIRSPEED..INADEQUATE..PILOT IN COMMAND
The National Transportation Safety Board determines the probable cause(s) of this accident to be:
STALL/MUSH..INADVERTENT..PILOT IN COMMAND

---
Source(s):
Chapman, John & Goodall, Geoff, Edited by Paul Coggan - Warbirds Directory,Warbirds Worldwide Ltd., Mansfield, England, 1989.
National Transportation Safety Board/NTSB

Photo Source(s):
-


---

Research Assistance:
-

---
WARBIRD REGISTRY
>
T-28 TROJAN REGISTRY
>
PREVIOUS PAGE
---