T-28 TROJAN/51-3570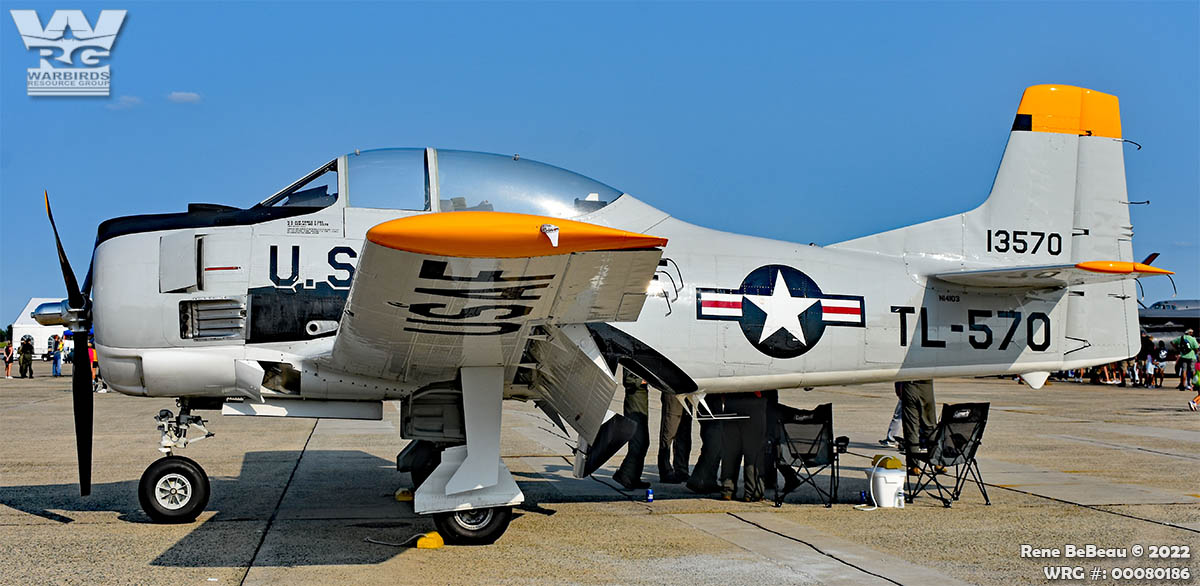 Serial #: 51-3570
Construction #:
174-108
Civil Registration:
N14103

Model(s):
T-28A Trojan
Fennec
AT-28D Trojan
Name: None
Status: Airworthy
Last info: 2023

History:
Delivered to the United States Air Force as 51-3570.
BOC: N/A.
SOC: N/A.
Assigned to 3306th Pilot Training Group, Bainbridge AFB, GA
Transferred to MASDC, July 17, 1958.
Transferred to reclamation, September 1, 1958.
Assigned to the Military Assistance Program (MAP)
Sold to French Government.
Shipped to Sud Aviation, St Nazaire, France, 19??.
Converted to T-28S-1 Fennec, line number 98
Delivered to the French Air Force/Armée de l'Air as 51-3570, May 1961.
BOC: N/A.
SOC: October 12, 1967.
Call sign F-ZJUE
Assigned to EALA 3/04. Call sign F-SFVX.
Assigned to ERALA 1/36.
Delivered to L'Armee de l'Air as Fennec No. 98, 19??.
Waco-Pacific Inc, Van Nuys, CA, 1968.
Shipped Le Havre to New Orleans, January 1968.
Registered as N14103.
Winter Wolff & Co, New York, NY, 1969.
Quality Components Inc, Los Angeles, CA, 1972.
Haitian Air Force/Corps d'Aviation de 1'Armee d'Haiti as 1241, July 1973..
Lan-Dale Co, Reno, NV, March 1978.
Warbirds Inc, Queens, NY, 1984-1987.
Robert W. Urbine, High Point, NC, 1988.
LTA Insurance Brokers, Greensboro, NC, 1992.
Cannon Aircraft Sales, Greensboro, NC, November 1993-2001.
Best T-28 at 1996 Sun'N Fun, Lakeland, Florida.
"Judges Choice" 1997 Oshkosh Warbirds
Command Aircraft Parts & Recovery Inc, Bunnell, FL, 2002.
John Fetcko/Land Air & Sea Restorations Inc, Crescent City, FL, June 7, 2002-2008.
Flew in French desert camouflage as "Fennec No.98".
Fred Machado/South Aviation, Ft Lauderdale, FL, February 29, 2012-2016.
South Air Corp Inc, Dover, DE, March 15, 2016-2018.
Repainted at at FLL as Argentine Navy T-28P "ARMADA 0628/3-A-208", 2014.
Noted Opa Locka, FL, June 2014.
Departed FLL on flight to Argentina, October 26, 2014.
Arrived at Buenos Aires, November 5, 2014.
Loaned? to Museo Nacional de Aeroanutica, Moron AB, Argentina, November 2014-2015.
Aircraft Guaranty Corp Trustee, Onalaska, TX, March 07, 2019.
Aircraft Guaranty Corp Trustee, Oklahoma City, OK, January 23, 2020.
CMG Warbirds LLS, Miami, FL, July 23, 2021.
Michael P. Thorstenson
, Marco Island, FL, October 12, 2021-2023.
Photo Source(s):
Rene BeBeau

---
Research Assistance:
-