---
WARBIRD REGISTRY
>
T-28 TROJAN REGISTRY
>
PREVIOUS PAGE
---
T-28 TROJAN/51-3557
---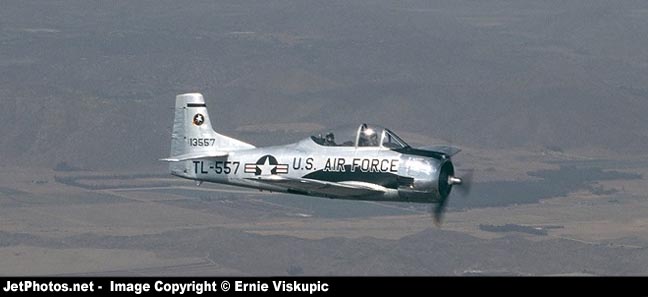 ---
Serial #: 51-3557
Construction #:
174-95
Civil Registration:
CN-AEE
HR-229A
N85228

Model(s):
T-28A Trojan
Fennec
Name: None
Status: Airworthy?
Last info: 2019

---
History:
Delivered to L'Armee de l'Air as Fennec No. 43, 19??.
Delivered to Morocan AF as ???, 19??.
To be delivered to Honduran AF as FAH 2???, 19??.
Reported impounded in USA, not delivered, 1978.
Stored FFL-Exec, 1979-1981.
Euroworld Inc, June 1980.
Registration N85228 reserved.
David C. Tallichet/MARC, Chino, CA, December 1980.
Jeff Hawk & David C. Tallichet/MARC/Visionaire International Inc, Miami, FL, March 1983-1987.
Robert W. Nightingale, Ontario, CA, 1989-2019.
Displayed at Warhawk Air Museum, Nampa, ID, 2004-2006
Flown in metallic scheme as "USAF 13557/TL-557"
---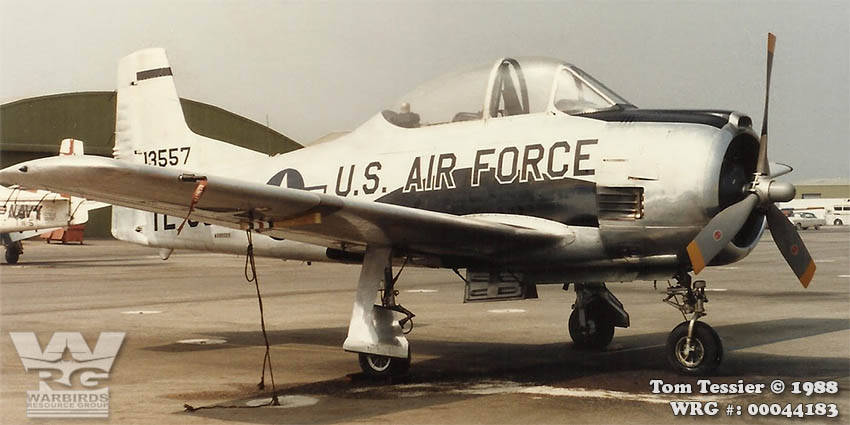 North American AT-28D/Fennec No.43/51-3557/NX85228 at Chino Airport, CA, August 1988.
---
Source(s):
Chapman, John & Goodall, Geoff, Edited by Paul Coggan - Warbirds Directory,Warbirds Worldwide Ltd., Mansfield, England, 1989.
Photo Source(s):
Ernie Viskupic via JetPhotos.net
Tom Tessier

---
WARBIRD REGISTRY
>
T-28 TROJAN REGISTRY
>
PREVIOUS PAGE
---