---
WARBIRD REGISTRY
>
T-28 TROJAN REGISTRY
>
PREVIOUS PAGE
---
T-28 TROJAN/51-3553
---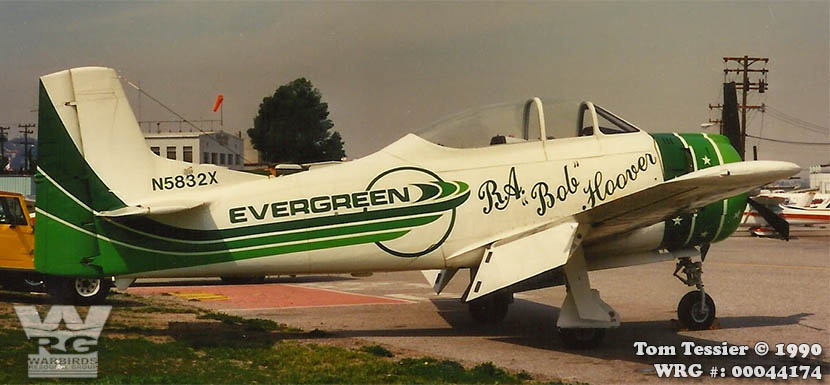 ---
Serial #: 51-3553
Construction #:
174-91
Civil Registration:
N14101
N991CA
C-GJCJ
N5832X

Model(s):
T-28A Trojan
Fennec
Name: None
Status: Crashed
Last info: 2004

---
History:
Delivered to L'Armee de l'Air as Fennec No. 100, 19??.
Waco-Pacific Inc, Van Nuys, CA, Marc 12, 1968.
Winter Wolff & Co, New York, NY, 1969-1972.
Stephen Folkman, Philadelphia, PA, 1978.
Courtesy Aircraft Inc, Rockford, IL, January 1980-1984.
- Registered as N991CA.
Jerry C. Janes, Vancouver, BC, August 1984.
Registered as C-GJCJ.
Flown in polished metal with RCAF roundels.
William G. Bennett, Las Vegas, NV, June 1985-1986.
Enstrom West Corp, Palos Verdes, CA, 1987-1992.
Willard V. O'Conner, Tustin, CA, November 15, 1995-2003.
Mark Drew, Bullhead City, AZ, August 13, 2003-2005.
Crashed during landing, Apple Valley, CA, July 11, 2004.
---
Source(s):
Chapman, John & Goodall, Geoff, Edited by Paul Coggan - Warbirds Directory,Warbirds Worldwide Ltd., Mansfield, England, 1989.
Goodall, Geoff - Warbirds Directory-6th Edition, 2013.

Photo Source(s):
Tom Tessier


---

Research Assistance:
-

---
WARBIRD REGISTRY
>
T-28 TROJAN REGISTRY
>
PREVIOUS PAGE
---