---
WARBIRD REGISTRY
>
T-28 TROJAN REGISTRY
>
PREVIOUS PAGE
---
T-28 TROJAN/50-0202
---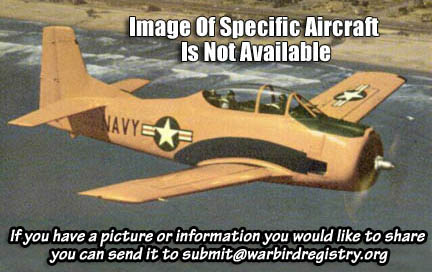 ---
Serial #: 50-0202
Construction #:
171-8
Civil Registration:
N9104Z

Model(s):
T-28A Trojan
T-28R-1 Nomair
Name: None
Status: Unknown
Last info: 1982

---
History:
Hamilton Aviation Co Inc, Tucson, AZ, 19??.
- Registered as N9104Z.
- Converted to Hamilton T-28R-1 Nomair.
Delivered to Brazilian Navy as N-703, 19??.
Transferred to Brazilian AF as 0862, 19??.
Museu Aerospacial de FAB, Rio de Janiero, 1978-1982.
---
Source(s):
Chapman, John & Goodall, Geoff - Editted by Paul Coggan -
Warbirds Directory
,Warbirds Worldwide Ltd., Manfield, England, 1989.
Photo Source(s):
None.
---
WARBIRD REGISTRY
>
T-28 TROJAN REGISTRY
>
PREVIOUS PAGE
---