---
WARBIRD REGISTRY
>
T-28 TROJAN REGISTRY
>
PREVIOUS PAGE
---
T-28 Trojan/49-1673
---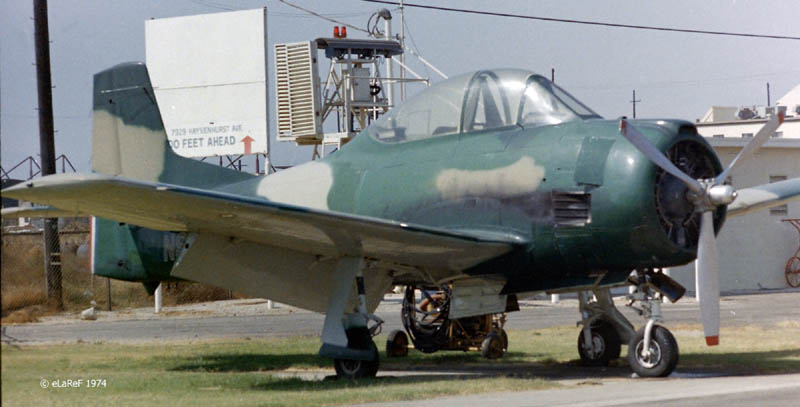 ---
Serial #: 49-1673
Construction #:
159-185
Civil Registration:
N9611C

Model(s):
T-28A Trojan
Name: None
Status: Wrecked
Last info: 1987

---
History:
Border Aviation Inc, Yuma, AZ, 1966.
- Registered as N9611C.
Donald R. Alderson, Van Nuys, CA, 1969-1972.
William Blakemore, Midland, TX, 1978.
Confederate Air Force, Harlingen, TX, July 7, 1982.
Carsan Charters
, Lovington, NM, 1986-1987.
- Crashed in New Mexico, May 1987.
-- Pilot and passenger fatally injured.
---
NTSB Identification: DEN87FA121 .
The docket is stored on NTSB microfiche number 34272.
14 CFR Part 91: General Aviation
Accident occurred Saturday, May 09, 1987 in TATUM, NM
Probable Cause Approval Date: 10/7/1988
Aircraft: NORTH AMERICAN T-28D, registration: N9611C
Injuries: 2 Fatal.
ACCORDING TO FRIENDS OF THE PLT, THE ACFT LEFT ROSWELL, NEW MEXICO, WITH 2 PEOPLE ABOARD AFTER AN AIRSHOW WITH A DESTINATION OF LOVINGTON, NM. WITNESSES OBSERVED THE ACFT FLYING IN THE DISTANCE AND THEN OBSERVED A BIG CLOUD OF DUST RISING FROM THE GROUND. THE INVESTIGATION REVEALED THE ACFT IMPACTED THE GROUND AT HIGH SPEED AND WAS COMPLETELY DESTROYED. NO PREIMPACT MECHANICAL MALFUNCTIONS/FAILURES COULD BE DETERMINED.
The National Transportation Safety Board determines the probable cause(s) of this accident as follows:
PROPER ALTITUDE..NOT MAINTAINED..PILOT IN COMMAND
Contributing Factors
IN-FLIGHT PLANNING/DECISION..IMPROPER..PILOT IN COMMAND
---
Source(s):
Chapman, John & Goodall, Geoff, Edited by Paul Coggan - Warbirds Directory,Warbirds Worldwide Ltd., Mansfield, England, 1989.
Federal Aviation Administration, www.faa.gov, 2008.
NTSB, www.ntsb.gov

Photo Source(s):
eLaReF


---

Research Assistance:
-

---
WARBIRD REGISTRY
>
T-28 TROJAN REGISTRY
>
PREVIOUS PAGE
---