---
WARBIRD REGISTRY
>
T-28 TROJAN REGISTRY
>
PREVIOUS PAGE
---
T-28 TROJAN/Bu. 140637
---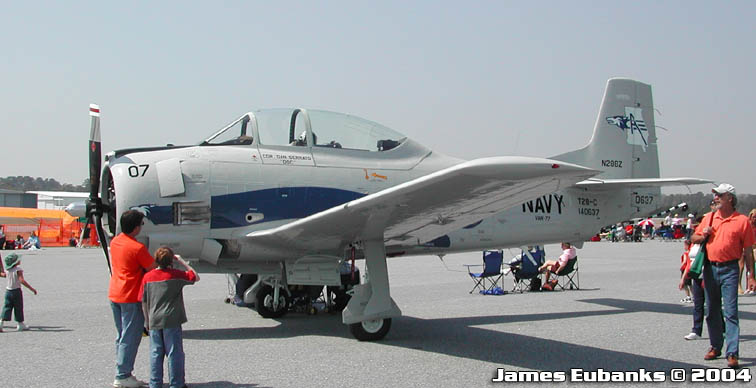 ---
Bureau #: 140637
Construction #: 226-214
Civil Registration:
N65647
N28BZ

Model(s):
T-28C Trojan
Name: None
Status: Destroyed
Last info: 2005

---
History:
Bert J. Zwaagstra, Mesquite, NM, December 1990-1992.
- Registered as N65647.
- Registered as N28BZ, July 1991.
Impact Directories Inc, Manchester, MI, November 1999.
Daniel Serrato
, Columbs, GA, January 2004-2005.
- Destroyed in forced landing, June 20, 2004.
-- Mr. Serrato and passenger uninjured.
- Partial airframe stored.
---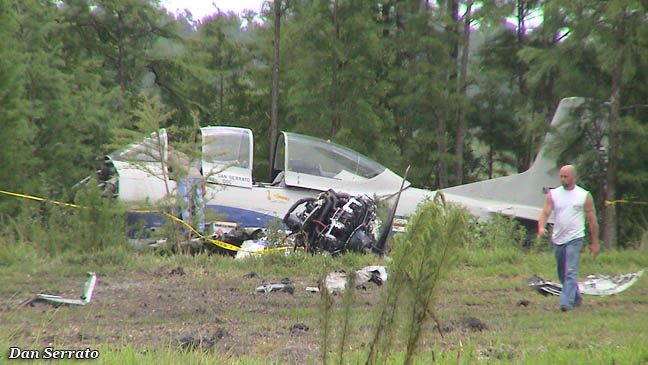 ---
NTSB Identification: MIA04LA099
14 CFR Part 91: General Aviation
Accident occurred Sunday, June 20, 2004 in Deland, FL
Aircraft: North American T-28C, registration: N28BZ
Injuries: 2 Uninjured.
This is preliminary information, subject to change, and may contain errors. Any errors in this report will be corrected when the final report has been completed. On June 20, 2004, about 1050 eastern daylight time, a North American T-28C, N28BZ, registered to and operated by a private individual as a Title 14 CFR Part 91 personal flight, made a forced landing to a field in the area of Deland, Florida. Visual meteorological conditions prevailed, and a visual flight rules flight plan was filed. The pilot and one passenger were not injured, and the airplane incurred substantial damage. The flight was originating at the time of the accident. The pilot stated that he had just departed from New Smyrna Beach Municipal Airport, New Smyrna Beach, Florida, and during initial climb, a chip light illuminated on the airplane's instrument panel. He stated that along with the chip light, there was a corresponding reduction in engine rpm, so he looked around for a suitable place to land, and was able to locate an open field. He said that the approach and landing flare/touchdown were uneventful, but during the landing rollout the airplane impacted a ditch, and incurred substantial damage.
---
Source(s):
Chapman, John & Goodall, Geoff, Edited by Paul Coggan - Warbirds Directory,Warbirds Worldwide Ltd., Mansfield, England, 1989.
Federal Aviation Administration, www.faa.gov, Washington D.C., 2005.
NTSB, www.ntsb.gov

Photo Source(s):
Dan Serrato
James Eubanks


---

Research Assistance:
Dan Serrato

---
WARBIRD REGISTRY
>
T-28 TROJAN REGISTRY
>
PREVIOUS PAGE
---