---
WARBIRD REGISTRY
>
T-28 TROJAN REGISTRY
>
PREVIOUS PAGE
---
T-28 TROJAN/Bu. 140528
---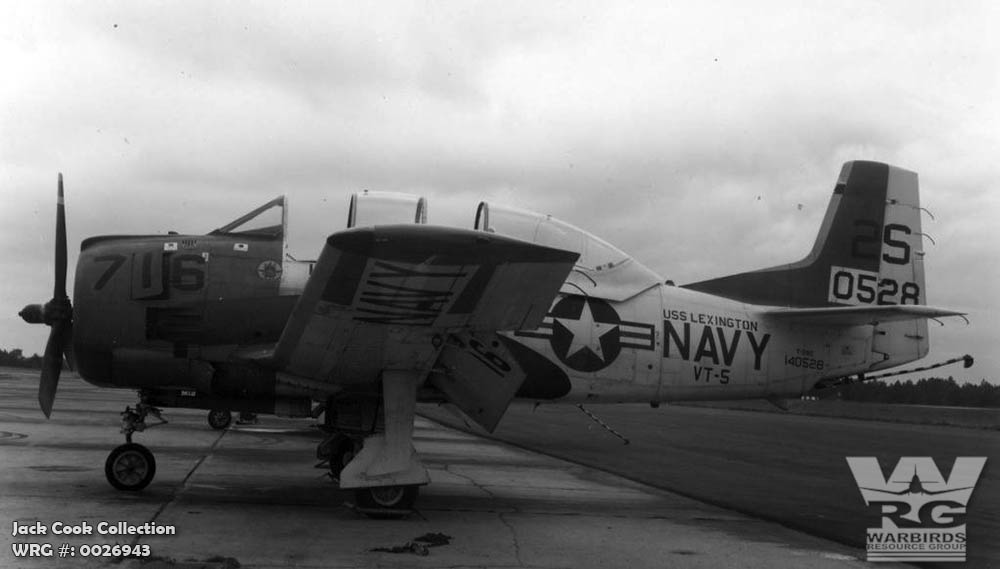 Service picture: T-28C Trojan of VT-5 at NAS Saufley Field, FL
---
Bureau #: 140528
Construction #:
226-105
Civil Registration:
N71546

Model(s):
T-28C TROJAN
Name: None
Status: Wrecked
Last info: 2003

---
History:
Trojan Aircraft Inc, Matthews, MD, February 1990.
- Registered as N71546.
Koening Farms, Inc, Yuma, CO, 1992.
Heavily damaged during forced landing, Fredericksburg, TX, February 21, 2002.
John Freeman
, Gilbert, AZ, May 29, 2003.
---
NTSB Identification: FTW02LA083.
Accident occurred Thursday, February 21, 2002 in Fredericksburg, TX
Probable Cause Approval Date: 4/8/03
Aircraft: North American T28C, registration: N71546
Injuries: 1 Uninjured.
The pilot reported that prior to a day cross-country flight, the airplane was topped with 155 gallons of fuel, and subsequently, flown for 1 hour 25 minutes to the next destination. The airplane was not fueled at that destination, and the flight departed for the subsequent destination. During the descent, the engine lost total power approximately 4 nautical miles east of the destination airport. The pilot landed the airplane in a rough field. The FAA inspector, who responded to the site, drained approximately 12 ounces of fuel from the airplane. The integrity of the fuel system was not compromised.
The National Transportation Safety Board determines the probable cause(s) of this accident as follows:
the failure of the pilot to refuel the airplane resulting in fuel exhaustion. A contributing factor was the lack of suitable terrain for the forced landing.

---
Source(s):
Chapman, John & Goodall, Geoff - Edited by Paul Coggan -
Warbirds Directory
,Warbirds Worldwide Ltd., Manfield, England, 1989.
Federal Aviation Administration
, www.faa.gov, Washington D.C., 2003.
NTSB
, www.ntsb.gov
Photo Source(s):
Jack Cook Collection
---
WARBIRD REGISTRY
>
T-28 TROJAN REGISTRY
>
PREVIOUS PAGE
---