---
WARBIRD REGISTRY
>
T-28 TROJAN REGISTRY
>
PREVIOUS PAGE
---
T-28 TROJAN/Bu. 140076
---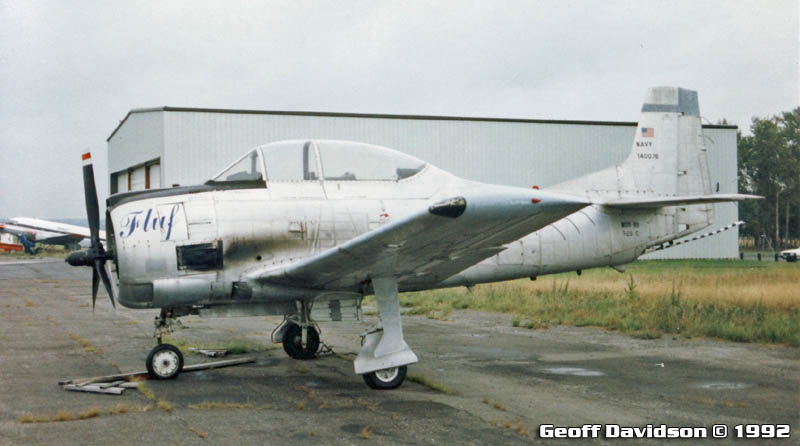 ---
Bureau #: 140076
Construction #: 226-24
Civil Registration:
N176RR
N176RD

Model(s):
T-28C Trojan
Name: None
Status: Crashed
Last info: 2008

---
History:
Classics in American Aviation Inc, Reno, NV, November 1985-1987.
- Registered as N176RR.
Robert M. Lanyon, Renfrew, CA, 1988-1992.
Miami Beach Aviation LLC, Miami Beach, FL, October 2004-2008.
- Registered as N176RD
- Damaged, Crashed into swamp at Arcadia, FL Sep 30, 2005.
---
NTSB Identification: MIA05LA164.
Accident occurred Friday, September 30, 2005 in Arcadia, FL
Probable Cause Approval Date: 10/3/2006
Aircraft: North American T-28C, registration: N176RD
Injuries: 1 Uninjured.
The pilot stated that the annual inspection had recently been completed and he was flying the airplane to the North Perry Airport located in Pembroke Pines, Florida. At an altitude of 2,000 feet and after about 15 minutes en route, he noticed a light colored smoke coming from and just above the right exhaust stack. He noticed the engine temperature rising shortly thereafter, followed by the engine oil metal chip detector light illuminated. The engine started producing unusual noises and a violent vibration followed. He looked for a suitable area to make a forced landing and elected to land on a gravel road with a canal running along side it. About 150 feet into the landing roll, the right wing tip struck a high berm. The airplane snapped to the right as the nose of the airplane went partially into the canal. The aft section of the empennage partially separated and came to a stop, next to the left forward side of the airplane. Examination of the airplane's engine by an FAA inspector showed that the engine's oil system was contaminated with metal flakes. Pieces of silver and cooper colored metal were observed in the oil filter. Metal chunks of approximately 1/8 to 1/4 inches were found on the metal chip detector. He stated that the silver metal debris was consistent with material from the master rod bearing.
The National Transportation Safety Board determines the probable cause(s) of this accident as follows:
A loss of engine power due to the failure of the master rod bearing.

---
Source(s):
Chapman, John & Goodall, Geoff, Edited by Paul Coggan - Warbirds Directory,Warbirds Worldwide Ltd., Mansfield, England, 1989.
Goodall, Geoff - Warbirds Directory-4th Edition, 2003.
Federal Aviation Administration, www.faa.gov, 2008.
Joe Baugher's Serial Numbers Page
NTSB, www.ntsb.gov

Photo Source(s):
Geoff Davidson


---

Research Assistance:
-

---
WARBIRD REGISTRY
>
T-28 TROJAN REGISTRY
>
PREVIOUS PAGE
---