---
WARBIRD REGISTRY
>
T-28 TROJAN REGISTRY
>
PREVIOUS PAGE
---
T-28 TROJAN/Bu. 140007
---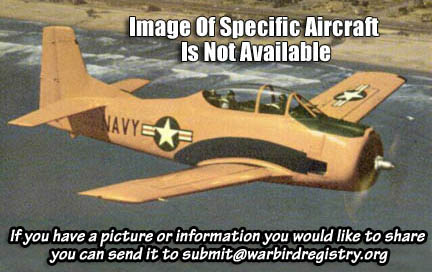 ---
Bureau #: 140007
Construction #:
219-6
Civil Registration:
N5443E

Model(s):
T-28B Trojan
Name: None
Status: Crashed
Last info: 1986

---
History:
Courtesy Aircraft Inc, Rockford, IL, August 1984.
- Registered as N5443E.
Randall Porter, Woodstock, GA, 1986-1987.
- Crashed & destroyed during aerobatics, Lutherville, GA, March 30, 1986.
---
NTSB Identification: ATL86FA102
Accident occurred Sunday, March 30, 1986 in LUTHERSVILLE, GA
Aircraft: NORTH AMERICAN NA219 (T28B), registration: N544E
Injuries: 2 Fatal.
AFTER TAKEOFF THE ACFT WAS OBSERVED TO CLIMB STRAIGHT OUT TO AN ALT OF ABOUT 500-700 FT. IT THEN TURNED TO A NORTHERLY HEADING. AFTER A SHORT TIME ON THE NORTHERLY HDG, THE ACFT WAS OBSERVED TO INITIATED A LEFT AILERON OR BARREL ROLL, DISH OUT AND END UP ON AN EASTERLY HDG IN A STEEP DIVE. THE ACFT WENT FROM SIGHT OF THESE WITNESSES BEHIND THE TREE LINE STILL IN A DIVE. THEY STATED THAT THE ROLL MANEUVER WAS INITIATED AT A HEIGHT OF 500-700 FT. WITNESSES AT THE CRASH SITE STATED THAT THEY FIRST SAW THE AIRCRAFT AT A LOW ALT IN A DESCENT WITH THE ENGINE RUNNING 'REAL LOUD'. IT STRUCK TREES AND A UTILITY POLE AND PARTS STARTED COMING OFF. BOTH OCCUPANTS WERE PROFESSIONAL AIR CARRIER AIR CREW EMPLOYEES. AND IT COULD NOT BE DETERMINED WHICH OCCUPANT WAS THE SOLE MANIPULATOR OF THE FLIGHT CONTROLS DURING THE ACCIDENT SEQUENCE.
The National Transportation Safety Board determines the probable cause(s) of this accident as follows:
AEROBATICS..ATTEMPTED..PILOT IN COMMAND
ALTITUDE..INADEQUATE..PILOT IN COMMAND
Contributing Factors
OVERCONFIDENCE IN PERSONAL ABILITY..PILOT IN COMMAND

---
Source(s):
Chapman, John & Goodall, Geoff, Edited by Paul Coggan - Warbirds Directory,Warbirds Worldwide Ltd., Mansfield, England, 1989.
Goodall, Geoff - Warbirds Directory-4th Edition, 2003.
NTSB, www.ntsb.gov

Photo Source(s):
None


---

Research Assistance:
-

---
WARBIRD REGISTRY
>
T-28 TROJAN REGISTRY
>
PREVIOUS PAGE
---