---
WARBIRD REGISTRY
>
T-28 TROJAN REGISTRY
>
PREVIOUS PAGE
---
T-28 TROJAN/Bu. 138356
---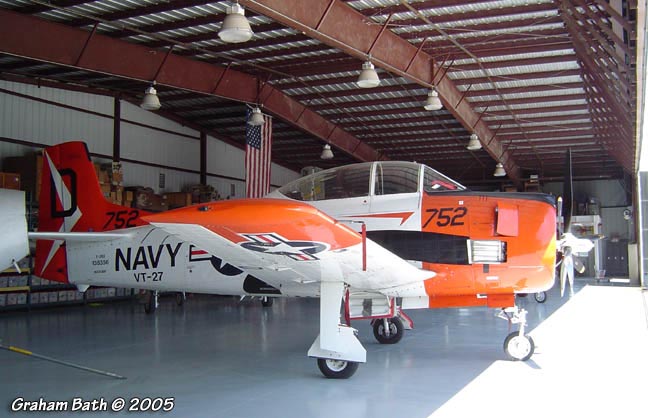 ---
Bureau #: 138356
Construction #:
200-427
Civil Registration:
N91AW

Model(s):
T-28B Trojan
Name: None
Status: Airworthy
Last info: 2005

---
History:
Delivered to USN as Bu. 138356, 19??.
- Assigned to VT-26, Corpus Christi, TX.
Apex Asociates, Canby, OR, January 1986.
- Registered as N91AW.
APEXX Co Inc, Canby, OR, June 1986.
Symbolic Warriors Inc, Weston, MA, 1988.
John P. Morgan/Pride Aircraft, Rockford, IL, August 1989-1990.
John P. Morgan/Symbolic Warriors Inc, Glenview, IL, 1992-1995.
- Rebuilt.
D & M Systems Corp, Wilmington, DE, July 15, 1997-2001.
Donald Johnson, Prescott, AZ, October 2001-2003.
Donald Johnson/Joe Areeda
, Prescott, AZ, December 2003-2005.
---
Source(s):
Chapman, John & Goodall, Geoff, Edited by Paul Coggan - Warbirds Directory,Warbirds Worldwide Ltd., Mansfield, England, 1989.
Goodall, Geoff - Warbirds Directory-4th Edition, 2003.
Federal Aviation Administration, www.faa.gov, Washington D.C., 2005.
Joe Areeda.
Photo Source(s):
Graham Bath.

---
WARBIRD REGISTRY
>
T-28 TROJAN REGISTRY
>
PREVIOUS PAGE
---