---
WARBIRD REGISTRY
>
T-28 TROJAN REGISTRY
>
PREVIOUS PAGE
---
T-28 TROJAN/Bu. 138172
---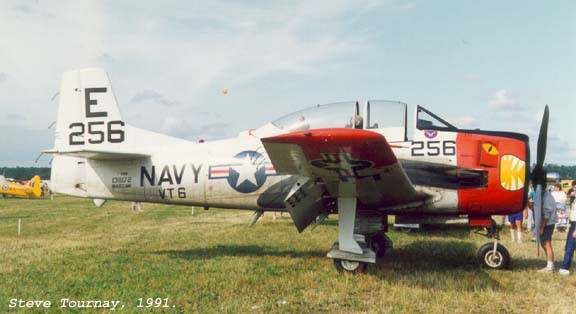 ---
Bureau #: 138172
Construction #:
200-243
Civil Registration:
N82AW

Model(s):
T-28B Trojan
Name: None
Status: Crashed
Last info: 2000

---
History:
Apex Associates Inc, Canby, OR, January 1986.
- Registered as N82AW.
Neale C. Cucharme, Phoenix, AZ, 1987-1988.
QRD Equipment Corp, Long Island City, NY, 1989-1992.
David McPherson
, Bloomingdale, IL, June 1996-2000.
- Crashed during forced landing after engine failure, Kankakee, IL, April 15, 2000.
-- Non-Fatal inhuries.
---
Current Disposition of Airframe is unknown.
---
NTSB Identification: CHI00LA112 . The docket is stored in the (offline) NTSB Imaging System.
14 CFR Part 91: General Aviation
Accident occurred Saturday, April 15, 2000 in KANKAKEE, IL
Aircraft: North American T-28B, registration: N82AW
Injuries: 1 Minor, 1 Uninjured.
The pilot said that after leveling off at 9,500 feet he noticed abnormal oil pressure readings. The pilot elected to land the airplane, but before a landing could be accomplished, the oil pressure dropped and the engine subsequently failed. The pilot declared an emergency and requested and received vectors to an airport. The pilot said, 'at five miles I had the airport in sight and knew instantly I was way too high for the southeast runway. ... I was still high and lowered the gear with the full intention of making the hard surface runway.' The pilot reported that during the descent, the engine was vibrating violently and that the '...descent rate became excessively high.' The aircraft landed in a plowed farm field about 1 mile north of the airport. According to a written report, a postaccident examination of the engine revealed '...evidence of engine oil venting through the breather vent on the left side of the fuselage immediately aft of the engine cowl.' The report also states that the intake tubes for cylinders number 7 and 8 '...contained a large amount of oil. The impeller section of the engine was wet with oil. This would indicate the loss of impeller seal between this section and the power section of the engine.' The report also states that only the number 1 piston, which contains the master connecting rod, would move consistent with propeller movement.
The National Transportation Safety Board determines the probable cause(s) of this accident as follows:
the misjudged glidepath by the pilot. Factors were the failure of the impeller seal resulting in a total loss of engine oil and subsequent engine failure, the plowed farm field, and the lack of suitable terrain for the forced landing.

---
Source(s):
Chapman, John & Goodall, Geoff - Edited by Paul Coggan -
Warbirds Directory
,Warbirds Worldwide Ltd., Manfield, England, 1989.
Federal Aviation Administration
, www.faa.gov, Washington D.C., 2002.
NTSB
, www.ntsb.gov
Photo Source(s):
Steve Tournay, 1991.
---
WARBIRD REGISTRY
>
T-28 TROJAN REGISTRY
>
PREVIOUS PAGE
---