---
WARBIRD REGISTRY
>
T-28 TROJAN REGISTRY
>
PREVIOUS PAGE
---
T-28 TROJAN/Bu. 137655
---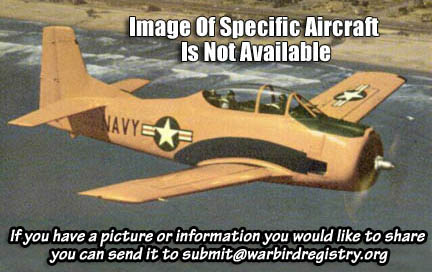 ---
Bureau #: 137655
Construction #:
200-18
Civil Registration:
N261FM

Model(s):
T-28B Trojan
Name: None
Status: Destroyed
Last info: 2004

---
History:
Flight Management Inc, Tulsa, OK, June 20, 1994.
- Registered as N261FM.
Old Glory Inc, Tulsa, OK, August 3, 1994-2004.
- Destroyed in fatal accident, Wesley Chapel, FL, June 03, 2004.
---
NTSB Identification: MIA04LA092.
The docket is stored in the Docket Management System (DMS). Please contact Public Inquiries
14 CFR Part 91: General Aviation
Accident occurred Thursday, June 03, 2004 in Wesley Chapel, FL
Probable Cause Approval Date: 4/28/2005
Aircraft: North American T-28B, registration: N261FM
Injuries: 1 Fatal.
The airplane was observed to depart from runway 32, and according to one witness, about 6 seconds after take off, "something small and rather dark fell from the plane." Another witness stated that a tarp of some kind came out from the plane." The airplane was then observed to roll left, and pitch down. The flight duration from takeoff to the time of the accident was estimated to be approximately 15-20 seconds. The airplane crashed into a wooded area. Examination of the wreckage, accident site, and departure end of the runway by an FAA inspector revealed several pieces of Plexiglas as well as the "Hinge, Engine side cowl forward" from the engine cowl assembly left hand side were found near the departure end of runway 32. Examination of the wreckage revealed the left hand side engine cowling was found farthest from the main wreckage, and a gash was noted in the vertical stabilizer from the leading edge aft to the main spar. Examination of the rear canopy revealed the Plexiglas was fractured with orange paint transfer near the fracture surface. The left hand side engine cowling was noted to be mostly orange in color, and was noted to have the "Hinge, Engine side cowl forward" and the aft upper section of cowling separated. No evidence of engine preimpact failure or malfunction was noted.
The National Transportation Safety Board determines the probable cause(s) of this accident as follows:
The pilot's failure to verify security of the left engine cowling and its subsequent separation in-flight and collision with the vertical stabilizer resulting in the loss of aircraft control
---
Source(s):
Chapman, John & Goodall, Geoff, Edited by Paul Coggan - Warbirds Directory,Warbirds Worldwide Ltd., Mansfield, England, 1989.
Goodall, Geoff - Warbirds Directory-4th Edition, 2003.
NTSB, www.ntsb.gov
Photo Source(s):
None.

---
WARBIRD REGISTRY
>
T-28 TROJAN REGISTRY
>
PREVIOUS PAGE
---