---
WARBIRD REGISTRY
>
SPITFIRE REGISTRY
>
PREVIOUS PAGE
---
SPITFIRE/TD135
---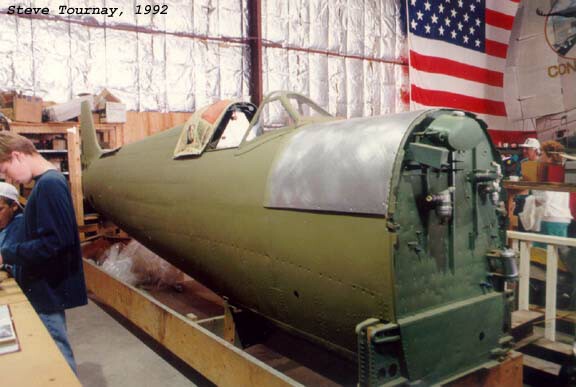 ---
Serial #: TD135
Construction #:
CBAF. IX4218
Civil Registration:
None

Model:
Spitfire LF Mk. XVIe
Name: None
Status: Restoration
Last info: 1998

---
History:
Delivered to Royal Air Force as TD135, 19??.
- Designated instructional airframe and coded 6798M.
Air Training Corps, Tynemouth, Newcastle, 1951-1963.
RAF Dishforth, 1963-1964.
- Put up for sale as scrap.
Percy Sheppard/The Spitfire Inn, Leominster, 1964-1975.
Worral Granger/Connie Motors, 1975.
Larry Higgens/Thunderbird Aviation, Deer Valley, AZ, 1975.
David Boyd & Hurley Bowler, Tiulsa, OK, 1976.
Ray Stutsman, Elkhart, IN, 1985-1986.
William C. Anderson
, Geneseo, NY, January 20, 1986-1998.
- Long-term rebuild to airworthy.
---
Source(s):
Chapman, John & Goodall, Geoff, Edited by Paul Coggan - Warbirds Directory,Warbirds Worldwide Ltd., Mansfield, England, 1989.
Goodall, Geoff - Warbirds Directory-4th Edition, 2003.
Photo Source(s):
Steve Tournay.

---
WARBIRD REGISTRY
>
SPITFIRE REGISTRY
>
PREVIOUS PAGE
---