---
WARBIRD REGISTRY
>
DAUNTLESS/BANSHEE REGISTRY
>
PREVIOUS PAGE
---
BANSHEE/42-54643
---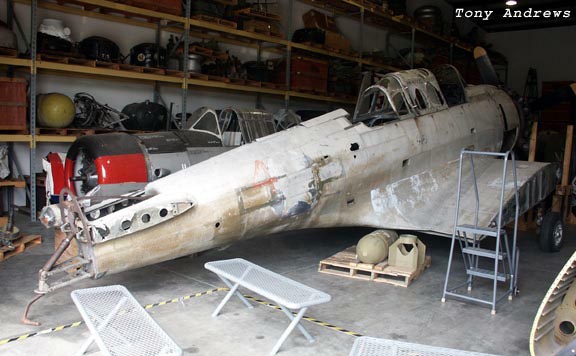 ---
Serial #: 42-54643
Construction #: 17482
Civil Registration:
N51382

Model:
A-24B Banshee
Name: None
Status: Restoration
Last info: 2002

---
History:
MGM Studios, Culver City, CA, 19??.
- Used as wind machine.
Admiral Nimitz Museum, Fredericksburg, TX, 1972-1974.
Bradley Air Museum, Windsor Locks, CT, Dec. 4, 1974-1988.
Bruce Roberts, New London, PA, 1988.
Kermit Weeks/Fantasy of Flight
, Polk City, FL, 1988-2002.
- Registered as N51382.
- Restoration project to airworthy.
---
Source(s):
Chapman, John & Goodall, Geoff, Edited by Paul Coggan - Warbirds Directory,Warbirds Worldwide Ltd., Mansfield, England, 1989.

Photo Source(s):
Tony Andrews


---

Research Assistance:
-

---
WARBIRD REGISTRY
>
DAUNTLESS/BANSHEE REGISTRY
>
PREVIOUS PAGE
---