Cavalier Mk. 2/67-22581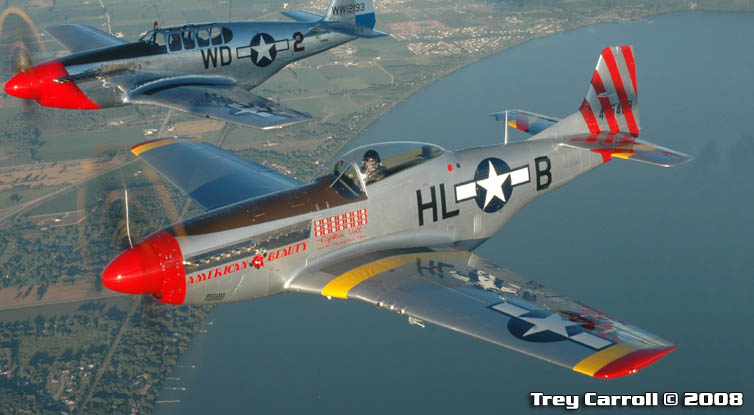 Serial #: 67-22581
Construction #: ?
Civil Registration:
C-GMUS
N151MC

Model(s):
Cavalier Mk. 2
Name(s):
American Beauty/Lovely Lila
Status: Airworthy
Last info: 2007

History:
Cavalier Aircraft Corp, February 12, 1968.
- New built aircraft.
Delivered to FA Boliviana as FAB 523, May 9, 1968
Arny Carnegie, Edmonton, Alberta, December 1977.
- Recovered from Bolivia.
- Registered as C-GMUS.
Ross F. Grady, Edmonton, Alberta, August 1978-1996.
- Flew in camoflage scheme as FAB 523/Whats Up Doc?.
Max Chapman, Kissimee, FL, 1997-1998.
- Restored, Fort Wayne, IN, 1997-1998.
Max Chapman/Gardner Capital Management Corp, New York, NY, February 9, 1998-2002.
- Registered as N151MC.
- Flown as 44-15459/HL-B.
-- Named as American Beauty on left side/Lovely Lila on right side.
-- Scheme a tribute to Capt. John J. Voll, USAAF.
AMERICAN BEAUTY 1944 INC/John O'Connor, Wilmington, DE, 2007-2008.

Source(s):
Chapman, John & Goodall, Geoff, Edited by Paul Coggan - Warbirds Directory,Warbirds Worldwide Ltd., Mansfield, England, 1989.
Goodall, Geoff - Warbirds Directory-4th Edition, 2003.

Photo Source(s):
Unknown.
Dick Philips/Warbird Images.
Chuck Gardner.
Caz Caswell.
Trey Carroll