P-51 MUSTANG/45-11636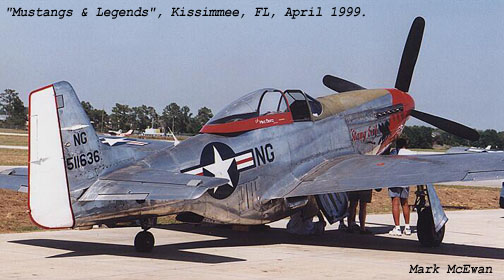 ---
Serial #: 45-11636
Construction #: 124-48389
Civil Registration:
N5467V
N11636

History:
Frank G. Tallman, Rubidoux-Flabob, CA, 1960.
- Registered as N5467V.
Tallmantz Aviation Inc/Movieland Of The Air, Santa Ana-Orange County, CA, 1963-1966.
- Damaged in wheels-up landing, Torrance, CA, August 19, 1964.
Rosen Novak Auto Co, Omaha, NB, 1966.
John Dilley, Fort Wayne, IN, 1968.
- Registered as N11636.
Michael W. Bertz, Cheyenne, WY (later Nashville, TN & Lakewood, CO), August 1968-2002.
- Flown as 511636/WD-KK/Stang Evil.

Source(s):
Chapman, John & Goodall, Geoff, Edited by Paul Coggan - Warbirds Directory,Warbirds Worldwide Ltd., Mansfield, England, 1989.
Goodall, Geoff - Warbirds Directory-4th Edition, 2003.

Photo Source(s):
Mark McEwan