P-51 MUSTANG/45-11453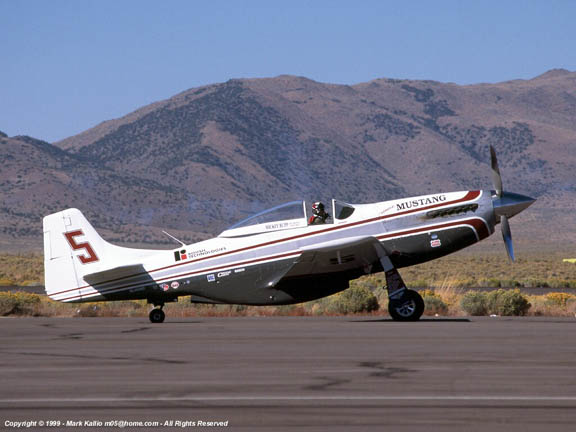 Serial #: 45-11453
Construction #: 124-48206
Civil Registration:
N5479V
C-GXUP
N59038
N6310T
N551MR

Model(s):
P-51D Mustang
Name:
Samurai Mustang
Status:
Destroyed
Last Info:
1996
History:
Delivered to United States Army Air Force as 45-11453, 19??.
John A. Colling, Scottsdale, AZ, 1963.
- Registered as N5479V.
T.A. Underwood, Buckeye, AZ, 1963-1964.
Sanford Aviation, Gardena, CA, 1966.
Delivered to FA Boliviana as FAB 511, June 10, 1966.
Arny Carnegie, Edmonton, Alberta, December 1977.
- Registered as C-GXUP.
- Arrived disassembled from Bolivia.
George Roberts, FL, May 6, 1978
- Registered as N59038.
- Reregistered as N6310T, 1978.
Whittington Bros, Ft. Lauderdale, FL, 1982-1983
- Rebuilt Fort Collins, CO, 1982-1985
- First flight May 1985.
- Adopted ID 44-74832.
Herbert E. Rupp, Port Salerno, FL, June 1985-1996.
- Flew as 474832/MR-A/Sweets.
- Flew as race #5/414450/Old Crow (later race #5/Samurai Mustang).
- Crashed & destroyed by fire, Naked Lady Ranch, Stuart, FL, February 12, 1996.
Sale reported, Livonia, MI, 1998-2002.
---
---
NTSB Identification: ATL96LA046
Accident occurred Monday, February 12, 1996at PALM CITY, FL
Aircraft:North American P-51D, registration: N551MR
Injuries: 1 Minor.
On February 12, 1996, approximately 1600eastern standard time, a North American P-51D, N551MR, collided with a tree and the ground while on final approach to the Naked Lady Ranch Airstrip, Palm City, Florida. The flight operated under the provisions of Title 14CFR Part 91, and visual flight rules. No flight plan was filed for the personal flight, and visual meteorological conditions prevailed. The private pilot was seriously injured, and the aircraft was destroyed by a post crash fire. The flight departed Leeward Air Ranch Ocala, Florida, about 1510.
The pilot had been performing aerial work at Leeward Air Ranch, and was returning home to the Naked Lady Ranch. A prelanding check, which included lowering the landing gear and the flaps, was completed. While on final approach, he attempted to add power, but there was no response. The propeller was windmilling, and the pilot said that the engine had lost all power. The pilot stated that the boost pump was on, he switched the fuel tanks, used the primer, and retracted the flaps. He stated that the airplane could not glide to the airfield, so he tried to maneuver through a yard to avoid a stand of trees. The airplane struck an oak tree and cartwheeled. According to the pilot, the airplane was destroyed by a post crash fire.
According to the FAA Aviation Safety Inspector the functional engine examination revealed that the carburetor idle was improperly adjusted which would result in depletion of the fuel in the carburetor with the throttle at idle, and a delayed response of the engine to throttle movement, from the idle position.
Source(s):
Chapman, John & Goodall, Geoff, Edited by Paul Coggan -
Warbirds Directory
,Warbirds Worldwide Ltd., Mansfield, England, 1989.
Goodall, Geoff -
Warbirds Directory-4th Edition
, 2003.
National Transportation & Saftery Board (NTSB)
, 2002.
Photo Source(s):
Mark Kalio.
Caz Caswell.