P-51 MUSTANG/45-11381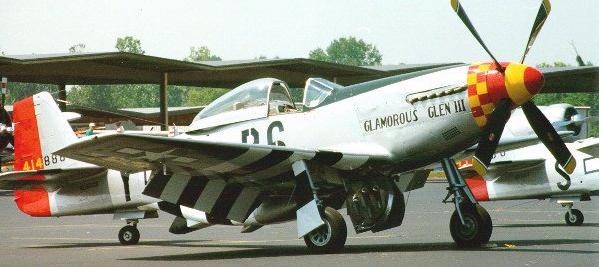 ---
Serial #: 45-11381
Construction #: 124-48134
Civil Registration:
N5471V
C-GRLR
N151MR
N551CB
N51CY

Model: P-51D-25-NT Mustang
Name: Glamorous Glen III
Status: Stored
Last Info: 2012

Delivered to U.S. Army Air Force as 45-11381, 19??.
Trans Florida Aviation, Sarasota, FL, 1959.
- Registered as N5471V.
Vulcan Engineering Co Inc, Little Rock, AR, 1963-1966.
Jack Huismann/Mustang Corp, Pewaukee, WI, 1969-1973.
Ed Browning/Brownings Inc, Roberts, ID, 1978-1979.
- Flew in Red Baron Racing Team as race #66.
- Crashed on landing approach, near Casper, WY, June 6, 1981.
Ritchie Rasmussen, Edmonton, Alberta, 1983-1984.
- Rebuilt as race #66/
The Flying Undertaker
.
- First flight 1983.
- Registered as C-GRLR, September 1983
Herbert E. Rupp, Port Salerno, FL, April 1985.
- Registered as N151MR.
Connie Bowlin/Bowlin Enterprises, Griffin, GA, September 1985-1990.
- Registered as N551CB.
- Flew as race #66/511381/
Snooks 5th
.
Gary Honbarrier/Carrier Aviation Inc, High Point, NC, July 10, 1990-2004.
- Flew as 414888/B6-Y/
Glamorous Glen III
.
- Crashed after engine failure and destroyed, Lincolnton, NC, September 6, 2001.
-- Jeff Michael & Butch Caudle bailed out.
Jack Roush
, Livonia, MI, November 29, 2006-2012.
- Registered as N51CY.
- Acquired wreckage.
---
NTSB Identification: ATL01LA103.
14CFR Part 91: General Aviation
Accident occurred Thursday, September 06, 2001in Lincolnton, NC
Probable Cause Approval Date: 8/28/02
Aircraft: North American P51-D, registration: N551CB
Injuries: 1Serious, 1Minor.
While cruising at 8,000feet, the pilot noticed coolant on the windshield. While descending through the clouds toward the nearest airport, the airplane's cockpit filled with smoke and condensation. The airplane broke out of the clouds at approximately 1,200feet, and the pilot headed it toward an unpopulated wooded area. The airplane's engine seized as the pilot and passenger prepared to bail out, and they were thrown clear. Both the pilot and passenger pulled their parachute ripcords and fell into trees. Examination of the wreckage revealed the cowl flap was crushed in the open position. A small amount of fluid was found in the radiator. The water pump and accessory assembly were destroyed.
The National Transportation Safety Board determines the probable cause(s) of this accident as follows:
A cooling system failure, that resulted in a total loss of coolant and the subsequent loss of engine power. A factor was the lack of suitable terrain for an emergency landing

Photo Source(s):
Unknown
Research Assistance:
None