P-51 MUSTANG/45-11371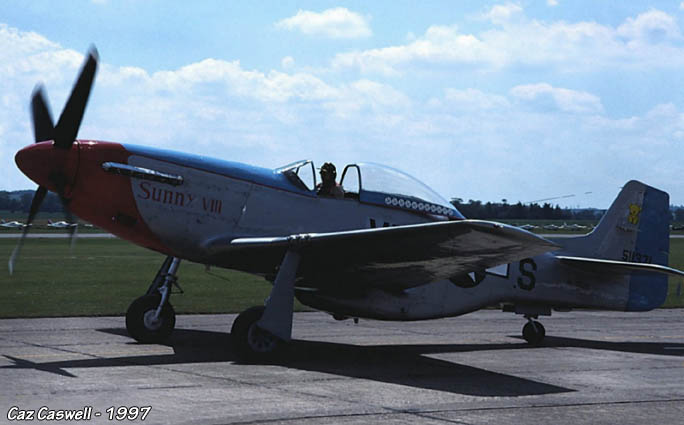 Serial #: 45-11371
Construction #: 124-48124
Civil Registration:
N12067
N1051
N751CB
N1051S
N51KF

History:
Delivered to California ANG, 1945
Transferred to Air Defense Command, Yuma, AZ, 1952
Transferred to New Hampshire ANG, 1954
Transferred to Illinois ANG, 195?
Delivered to FA d'L GN Nicaragua as GN121, May 31, 1958.
MACO Sales Financial Corp, Chicago, IL, July 8, 1963
- Registered as N12067.
Joe Binder, Fremont, OH, 1963-1970
George Sullivan, June 1970
- Registered as N1051S.
Mustangs Aviation Inc., Miami, FL, 1972-1978
Peter McManus, Fort Lauderdale, FL, July 1979-1984
- Flew as "Silver Girl
Whittington Bros, Fort Lauderdale, FL, 1984
Rick E. Sharpe, Rosharon, TX, 1984
Connie Bowlin, Bowlin Enterprises, Griffin, GA, May, 1985
- Registered as N751CB.
Jimmie R. MacMillan, Breckenridge Air Museum, Breckenridge, TX, October 1985-1987.
- Reregistered as N1051S.
Spenser Flack/Myrick Aviation, Miami, FL, January 1987-1991
- Based in Southend, UK.
- Delivered on June 22, 1987.
Flakair Inc., Fort Collins, CO, 1992-??
- Flown as 51137/VF-S/
Sunny VIII
US Army Air Corps Museum, Dover, DE, 19??-1995
- Registered as N51KF
- Destroyed in air show accident (See
accident report
)
- Pilot George Krieger fatally injured.
Source(s):
Chapman, John & Goodall, Geoff, Edited by Paul Coggan - Warbirds Directory,Warbirds Worldwide Ltd., Mansfield, England, 1989.
Goodall, Geoff - Warbirds Directory-4th Edition, 2003.

Photo Source(s):
Nigel Rollings.
Mike Henniger.