P-51 MUSTANG/44-84753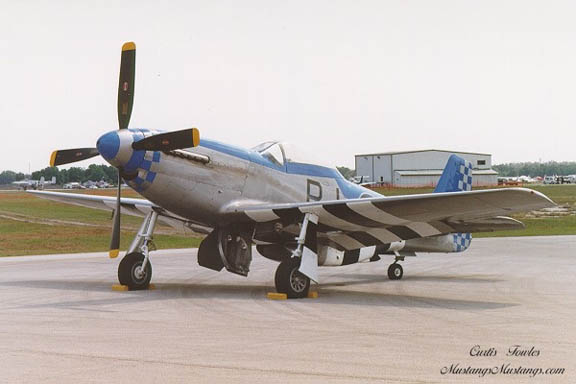 Serial #: 44-84753
Construction #: 122-44609
Civilian Registration:
N5436V
N51TC
N51BE
N251BP

Model(s):
P-51D Mustang
Name:
The Vorpel Sword
Status:
Airworthy
Last Info:
2002
History:
Robert L. Rodman, Fullerton, CA, 1963-1964.
- Registered as N5436V.
Les Grant, Santa Barbara, CA, 1966-1973.
Ted E. Contri/Contri Construction, Reno, NV, June 24, 1978-1986.
- Registered as N51TC.
- Registration N51BE reserved but not used, November 1986.
Robert J. Pond/Planes of Fame East, Plymouth, MN, February 1987-1992.
- Registered as N251BP.
- Flew as 484753/RJ-P/Mighty Moose.
Bernie Jackson, Minden NV, 1998-2002.
- Flown as The Vorpel Sword, 2001.

Source(s):
Chapman, John & Goodall, Geoff, Edited by Paul Coggan - Warbirds Directory,Warbirds Worldwide Ltd., Mansfield, England, 1989.
Goodall, Geoff - Warbirds Directory-4th Edition, 2003.

Photo Source(s):
Curtis Fowles - MustangsMustangs.com.