P-51 MUSTANG/44-73656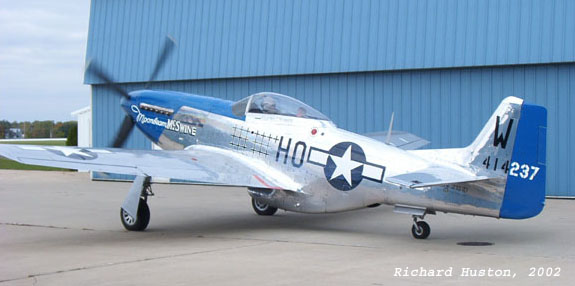 Serial #:
44-73656(44-12473)
Construction #: 122-40196
Civil Registration:
N5073K
N32FF
N2151D

Model(s):
P-51D Mustang
Cavalier 750
Name:
Moonbeam McSwine
Status:
Airworthy
Last Info:
2002
History:
Delivered to United States Army Air Force as 44-73656, 19??.
- Put up for disposal, McClellan AFB, CA, 1958.
Private Owner, 19??.
- Registered as N5073K.
Delta A&E Parts Inc, NC, February 1958.
Michael E. Coutches/American Aircraft Sales, Hayward, CA, May 1958.
Trans Florida Aviation, Sarasota, FL, 1958-1963.
Stanley Dunbar Studios, Charlotte, NC, 1963.
Howard Olsen, Midland, TX, 1966.
- Flew as Race #1.
Duncan Airmotive Inc, Galveston, TX, 1968.
Delivered to FA Salvadorena as FAS 406, Circa December 1968.
Jack W. Flaherty/Flaherty Factors Inc, Monterey, CA, November 1, 1974.
- Registered as N32FF.
- Adopted ID of P-51K/44-12473 on return to USA.
Gordon W. Plaskett, King City, CA, 1975-1981.
- Registered as N2151D, 1976.
- Restored to airworthy, 1976.
- Flew as 414237/HO-W/Moonbeam McSwine.
Chris Williams, Ellensburg, WA, 1981-1987.
Vlado Lenoch/Lenoch Engineering Inc, La Grange, IL, April 1988-2002.
- Flew as race #51.
- Flown as 414237/Moonbeam McSwine/HO-W.

Source(s):
Chapman, John & Goodall, Geoff, Edited by Paul Coggan - Warbirds Directory,Warbirds Worldwide Ltd., Mansfield, England, 1989.
Goodall, Geoff - Warbirds Directory-4th Edition, 2003.

Photo Source(s):
Scott Rose
Chuck Gardner
Richard Huston.