P-51 MUSTANG/44-73264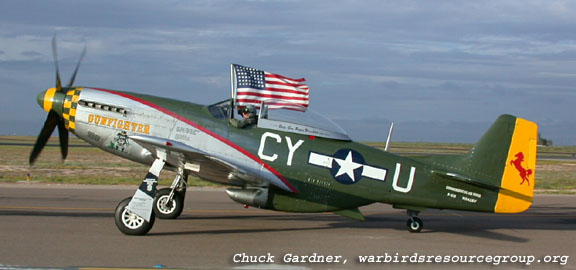 Serial #: 44-73264
Construction #: 122-39723
Civilian Registration:
N5428V

History:
Delivered to U.S. Army Air Force as 44-73264, March 1945.
- Reported allocated to 55th FG/8th AF.
Mathew P. Kilber, Luray, VA, 1963.
- Registered as N5428V.
Charles B. Schalebaum, Ridgewood, NJ, 1963-1964.
John M. Sliker, Wadley, GA, 1966.
William Ross Enterprises Inc, Chicago, IL, 1969.
Confederate Air Force, Harlingen, TX, 1970.
George F. Williams, Hobbs, NM, 1972.
Reported illegally flown to El Salvador, 1973.
- Used in Soccer war with Honduras.
- Part of group of Mustangs flown by Salvadorean and mercenary pilots.
Regis Urschler/CAF/Commemorative Air Force
, Omaha, NE, November 3, 1977-2003.
- Damaged during ground loop on landing, Council Bluffs, NE, June 17, 1981.
- Repaired using parts from 44-73273/N200DD.
- Flown as Gunfighter II/CY-U.
---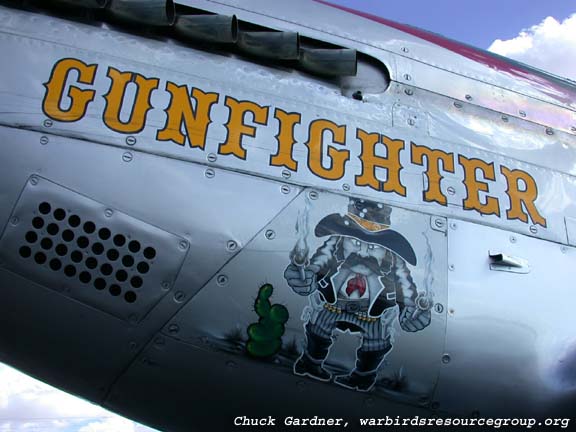 Source(s):
Chapman, John & Goodall, Geoff, Edited by Paul Coggan - Warbirds Directory,Warbirds Worldwide Ltd., Mansfield, England, 1989.
Goodall, Geoff - Warbirds Directory-4th Edition, 2003.

Photo Source(s):
Chuck Gardner, www.warbirdsresourcegroup.org, 2003
Unknown.