P-51 MUSTANG/44-72934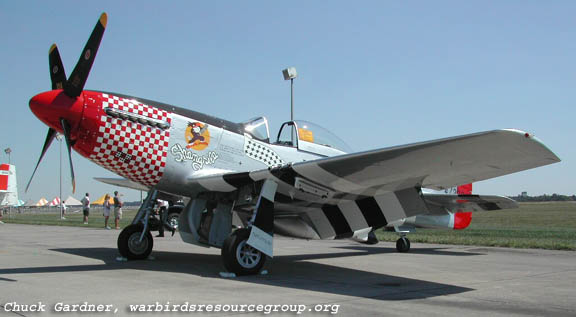 Serial #: 44-72934
Construction #: 122-39393
Civil Registration:
N513PA
XB-HVL

Model(s):
P-51D Mustang
Name:
Shangri-La
Status:
Airworthy
Last Info:
2001
History:
Delivered to United States Army Air Force as 44-72934, 19??.
Pioneer Aero Service, Chino, CA, April 1991
Warbirds Of GB, Ltd, Biggin Hill, UK, 1991-1992.
- Shipped to UK.
- First Flight Biggin Hill, March 3, 1992.
Humberto Lobo, Monterey, Mexico, 1997-2005.
- Registered as XB-HVL.

Source(s):
Chapman, John & Goodall, Geoff, Edited by Paul Coggan - Warbirds Directory,Warbirds Worldwide Ltd., Mansfield, England, 1989.
Francisco Lobo.

Photo Source(s):
Chuck Gardner, www.warbirdsresourcegroup.org, 2003