P-51 MUSTANG/44-72739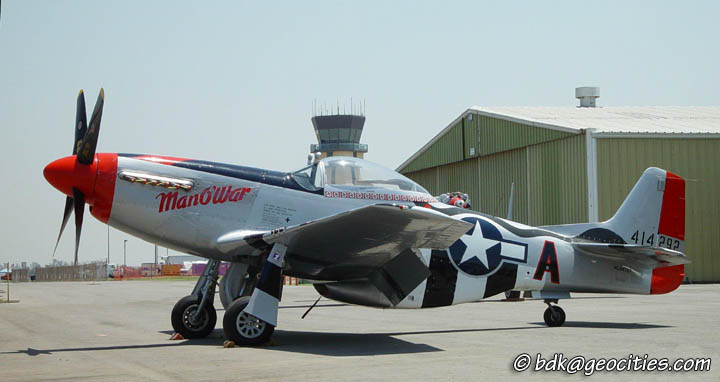 Serial #: 44-72739
Construction #: 122-39198
Civilian Registration:
N44727

Model(s):
P-51D Mustang
Name:
Man O' War
Status:
Airworthy
Last Info:
2017
History:
Delivered to United States Army Air Force as 44-72739, 19??.
Universal Studios, Hollywood, CA, 1955-1970.
- Used in movie Battle Hymn, 1957.
- Placed in open storage.
Ascher Ward, Van Nuys, CA, August 1970-1975.
- Recovered from Universal Studios, August 1970.
-- Towed, complete, to Van Nuys.
- Registered as N44727, 1971.
Elmer F. Ward/ Pioneer Aero Service, Chino, CA, August 7, 1975-2008.
- Flew as 414292/QP-A/Man O' War.
- Displayed (loaned) at Western Museum of Flight, Hawthorne, CA, 2007-2008.
BCT Management Co, Corona, CA, February 20, 2009-2017.
- Flown as 414292/QP-A/Man O' War.

Source(s):
Chapman, John & Goodall, Geoff, Edited by Paul Coggan - Warbirds Directory,Warbirds Worldwide Ltd., Mansfield, England, 1989.
Goodall, Geoff - Warbirds Directory-4th Edition, 2003.

Photo Source(s):
BDK