P-51 MUSTANG/44-72216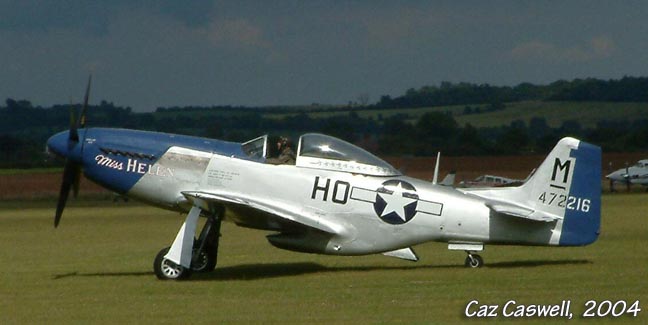 Serial #: 44-72216
Construction #: 122-38675
Civil Registration:
G-BIXL

History:
Delivered United States Army Air Force as 44-72216.
- Allocated to 487th FS, 352th FG, 8th AF.
- Flew as HO*M- "Miss Helen" flown by Capt. Raymond Littge.
- Flew as HO*M "Miss Nita" flown by Lt. Russell Ross.
Delivered to Royal Swedish AF as Fv26116, February 25, 1948.
Delivered to IDFAF as 2343, March 19, 1953.
Robs Lamplaugh/British Aerial Museum, Duxford, UK, 1976-1981.
- Recovered from Israeli playground, Ein Gedi Kibbutz.
- Shipped to UK, 1976.
- Stored, Booker, 1976.
Robs Lamplough
, Duxford/North Weald, UK, 1981-2003.
- Registered as G-BIXL.
- Rebuilt using mainplane from 44-72770(recovered from Dutch Technical School).
- First Flight, North Wield, May 5, 1987.
- Flew in movie "Memphis Belle" as "Miss L".
- Flew as 472216/HO-L & HO-M/Miss L.
- Flown as 472216/HO-M/
Miss Helen
---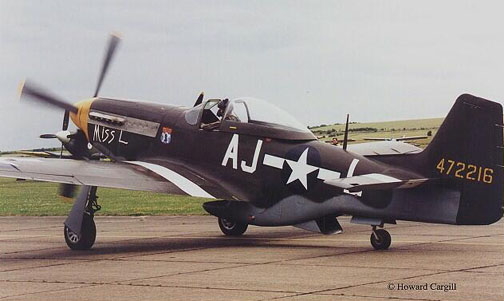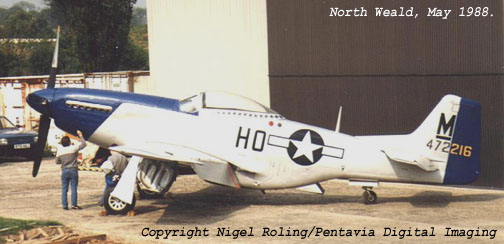 Source(s):
Chapman, John & Goodall, Geoff, Edited by Paul Coggan - Warbirds Directory,Warbirds Worldwide Ltd., Mansfield, England, 1989.
Goodall, Geoff - Warbirds Directory-4th Edition, 2003.

Photo Source(s):
Howard Cargil
Nigel Roling - Pentavia Digital Imaging
Caz Caswell.