P-51 MUSTANG/44-63865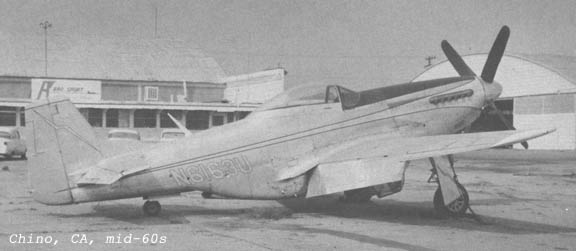 Serial #: 44-63865
Construction #: 122-31591
Civilian Registration:
N6163U
N51JK
N351TM
N1251D
N151TF

History:
Delivered to United States Army Air Force on December 8, 1944.
- Allocated to 8th Air Force.
Transferred to Royal Swedish AF as Fv26018.
-
BOC:
April 1945.
-
SOC:
1954.
To FA d'L GN Nicaragua as GN 90, January 17, 1955-1963.
William W. Martin/MACO Sales Financial Corp, Chicago, IL, September 23, 1963.
- Registered as N6163U.
PAAL Inc, East Point, GA, 1966.
O.J. Kistler, Long Valley, NJ, 1968-1998.
- Registered as N51JK, 1972.
- Flew as race #47.
Classic American Aircraft Inc.,
Poland, OH, 1998-2002
- Registered as N351TM, April 1999.
- Registered as N1251D, October 1999.
- Registered as N151TF, July 2000.
- Under Restoration.
- Modified to dual-control TF-51.
- To be painted and flown as
Red Dog XII
, 4th FG, 8th AF.
---
Airframe military history per 1999 research
by Ted Damick
General notes:
Firstly, the individual aircraft history cards [IARs] do not show deployments of any kind except to the particular Air Force that the a/c was assigned to.
Only after 1947 does that begin to occur and then only to the Group level. The identifying of any particular Mustang is primarily done by Group/Squadron records [mostly maintenance], Encounter Reports and photographs. Some of what has been captioned in photos is quite erroneous in nature and sometimes I have to spent a great deal of time and effort in proving why the information is incorrect and then try to make the record right. Thus whatever information I give you will come from the following sources: the a/cs record card, Leif Hellstrom's "J26 Mustang" and Dan Hagedorn and John Dienst's "North American F-51 Mustangs in Latin American Air Force Service". [Dan is an archivist at the NASMs silver Hills facility and long time friend] so here goes.
44-63865NA c/n 122-31591 was delivered under AAF contract AC-2378, AAF Priority #1-13on 8December 1944under Project #92948having previously been Proj # 91073R.
The a/c was picked up for ferry flight on 9December at Palm Springs, CA. Not leaving this station until 13December, the a/c flew through Coolidge AAF, Denver/CO and arrived at Greensboro on the 16th [not sure which Greensboro this is].
On December 20th the a/c arrived at Newark AAB [now McGuire AFB] to be stored until it departed the US for the ETO under shipping code SOXO on 27February 1945.
The trip across the Atlantic to the UK took about a week, depending on weather conditions where the a/c was offloaded in Bristol, England. On average most Mustangs were finally deployed to Group or Squadron level approximately 28to 35days after the date the a/c left the US, which would make it the end of March or early April 1945.
The last line of the IAR reads "SOXO DIVSWEDEN ADO R M 944638654214542145" This translates from AAF gibberish as transferred from ETO 9th AF diverted to Sweden on reserve a/c sn 44-63865action initiated on 13April 1945and completed on 21April 1945.
The a/c was deployed to F16wing at Uppsala, SWE and serialed 26018.
This was the second delivery of Mustangs to the Swedish. In several years of corresponding with Leif Hellstrom in helping him with his book, we came to an understanding that the first 50a/c delivered to Sweden probably did not see any combat action but could have been deployed to the Group level as a reserve a/c.
There have been 3or 4a/c that we thought might have actually been coded but really would have been iffy at best. Most of those iffy identifications were from the 359th FG and their records were notorious for errors in the recording of serial numbers on the Encounter Reports.
At this late stage in the War there was a small surplus of Mustangs in reserve depots. Most if not all of the early Swedish Mustangs came from these Depots.
Since it is a possibility that this a/c would have been deployed to a 9th AF unit then there would be only 2possibilities, the 354th and the 370th FGs.
The aircraft just before yours went to the 83rd FS/78th FG and was coded HL-W "Twilight Tear" another one of the Swedish Mustangs, 26158.
The one just after yours was deployed to the 15th AF and is presently unidentified. It would be my opinion to err on the side of caution to say that this a/c was actually deployed to a Squadron and saw combat, but then that possibility always exists.
Now back to the Swedish side of things. By the time these a/c landed in Sweden many of them had between 25to 35TT on the airframe so they were virtually brand new a/c.
Several of the Form 5s were found in the Swedish archives to substantiate this fact.
Your Mustang 44-63865had only 18hrs on it when it was received in Sweden.
Backtracking just a bit....while with the F16Wing in Sweden the a/c had the markings of red S, black 18, red C and lastly black 14. The Hellstrom book has a probable photo on p72. One of the areas that I don't get involved in as many others have done a fine job previously, is the area of the civilian histories of vintage Mustangs.
When finally stricken of charge [SOC] the a/c had 1358TT when it was sold to the Dominican AF but changed to the Nicaraguan AF and serialed as FAN 90.
In September of 1963the MACO Corp bought the aircraft and registered it as N6163U.
Recent civilian history
General notes:
It was registered as N51JK under the ownership of Jack Kistler at Chino, CA, USA for over thirty years flying polished overall with civilian light blue striping. It was last flown 1998.
It was sold to Classic American Aircraft, Inc. and registered as N151TF for restoration as Major Louis H. Norley's
"Red Dog XII"
.
---
Thanks to Ted Damick and Dan Baun for supplying this history.
Chapman, John & Goodall, Geoff, Edited by Paul Coggan - Warbirds Directory,Warbirds Worldwide Ltd., Mansfield, England, 1989.
Goodall, Geoff - Warbirds Directory-4th Edition, 2003.
Ted Damick, Dan Baun/Classic Aircraft Inc., 2002

Photo Source(s):
T. J. Johansen
Dan Baun/Classic Aircraft Inc., 2002