CA-18 Mustang/A68-100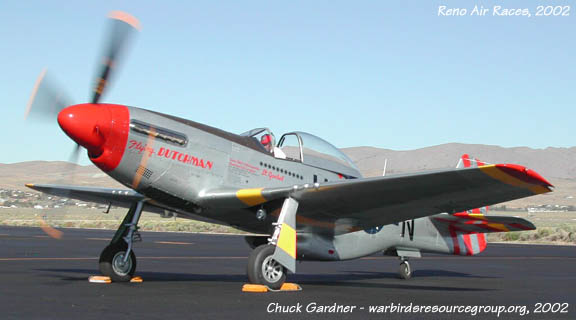 Serial #: A68-100
Construction #: 1425
Civil Registration:
VH-BOW
NL51AB

Model:
CA-18 Mustang Mk. 21
Name: Flying DUTCHMAN
Status: Airworthy
Last info: 2002

Delivered to RAAF as A68-100.
-BOC: November 6, 1947
-SOC: April 1958 at RAAF Tocumwal.
A.J.R. "Titus" Oates, Sydney, Australia, April 23, 1958-1960.
Fawcett Aviation, Bankstown, New South Wales, 1960-1967.
-Registration VH-BOW reserved but not taken up, August 25, 1961.
-Modified for high altitude survey flights, ending March 1, 1962.
-First flight, December 8, 1961.
Ed Fleming/Skyservice Aviation, Camden, New South Wales, 1967.
L. James Ausland, Seattle, WA, November 20, 1967.
-Shipped to Seattle.
-Rebuilt 1968-1971.
-Adopted id 44-14777/N51AB.
L. James Ausland/Sports Air, Seattle, WA, July 1971.
-Registered as NL51AB
Joe Arnold, Greenville, MS, February 20, 1974.
Robby R. Jones, Minter City, MO, August 25, 1975-1989.
Norman Lewis/Lewis Aviation/Kentucky Aviation Museum, Louisville, KY, 1990-1999.
-Flew as 414777/J-RR/Miss Escort.
Inpatient Dental Service, Ashland OR, February 3, 1999-2002.
-Flown as the 413500/HL-N/Flying DUTCHMAN.

Source(s):
Chapman, John & Goodall, Geoff, Edited by Paul Coggan -Warbirds Directory,Warbirds Worldwide Ltd., Mansfield, England, 1989.
Goodall, Geoff -Warbirds Directory-4th Edition, 2003.

Photo Source(s):
Chuck Gardner
Scott Rose