A-36 APACHE/42-83665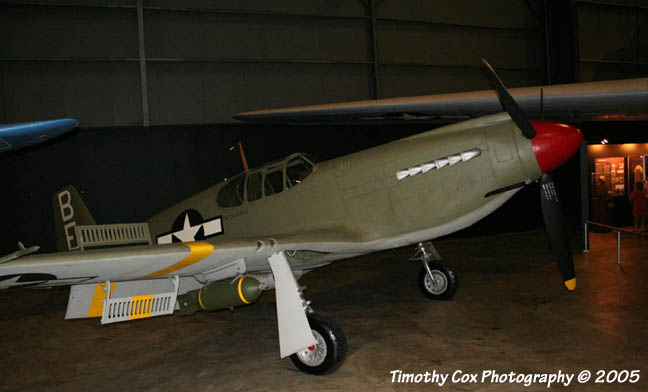 Serial #: 42-83665
Construction #: 97-15883
Civil Registration:
NX39502
N39502

Model(s):
A-36A Apache
Name: Margie H
Status: Display
Last info: 2005

History:
Kendall Everson/Essex Wire Corp, 1946-1947.
-Registered as NX39502.
-Operated by Woody Edmondson, Lynchburg, VA, 1947
--Flew as Bendix Racer #15, "City of Lynchburg II"
--Crashed during race in Cleveland, OH on September 01, 1947
James Hannon/Hanby Enterprises, 1949.
-Registered as N39502.
-Flew as race #2.
Harry McCandless & Bill Widfelt, circa 1950-1952.
-Withdrawn from use and placed in storage, Council Bluffs, IA, 1949-1954.
-Dismantled and stripped by May 1954.
Walter H. Erickson, Minneapolis, MN, circa 1954.
Charles P. Doyle, Rosemount, MN, 1963-1971
USAFM, Wright Patterson AFB
, Dayton, OH 1971-2005.
-Static restoration by MN ANG, 1973.
-Displayed as "83665/BF Margie H".
Source(s):
Chapman, John & Goodall, Geoff, Edited by Paul Coggan -
Warbirds Directory
,Warbirds Worldwide Ltd., Mansfield, England, 1989.
Goodall, Geoff -
Warbirds Directory-4th Edition
, 2003.
Federal Aviation Administration
, www.faa.gov, 2007.
Photo Source(s):
Dick Phillips.
USAF.
Chuck Gardner
Timothy Cox