---
WARBIRD REGISTRY
>
P-40 REGISTRY
>
PREVIOUS PAGE
---
WARHAWK/42-105270
---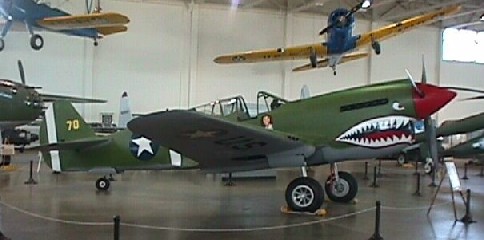 ---
Serial #: 42-105270¹
Construction #: 29032¹
Civil Registration:
None

Model(s):
P-40N-5-CU Warhawk
Name: None
Status: Displayed
Last info: 2003

---
History:
Hill Aerospace Museum
Hill AFB, UT, 1996-2003.
- Restored for static display, San Diego, CA, 1996-1999.
- Trucked to Hill AFB, April 1999.
- Displayed as 2105270/70.
---
¹Note: This aircraft is actually a composite of a P-40E fiberglass relica and a wrecked P-40N recovered from Alaska. The dataplates were unreadable so the Hill Aerospace Museum chose the serial number of a scrapped P-40 that had been flown by the same squadron that the wrecked aircraft belonged too.

---
Source(s):
Goodall, Geoff -
Warbirds Directory-4th Edition
, 2003.
Photo Source(s):
Hill Aerospace Museum
---
WARBIRD REGISTRY
>
P-40 REGISTRY
>
PREVIOUS PAGE
---