---
WARBIRD REGISTRY
>
P-40 REGISTRY
>
PREVIOUS PAGE
---
WARHAWK/41-13522
---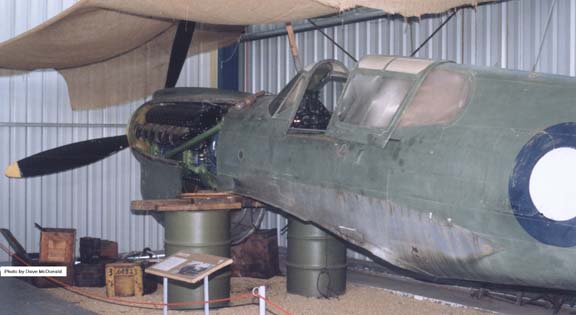 ---
Serial #: 41-13522
Construction #:
16738
Civil Registry:
None

Model(s):
P-40E Warhawk
Mk. Ia
Name: None
Status: Restoration
Last info: 2002

---
History:
Delivered to RAAF as A29-53.
- BOC: March 1942.
- SOC: February 1949.
- Put up for RAAF disposal at RAAF Werribee, Victoria.
B. Lang, Beeac via Colac, Victoria, circa 1948-1966.
Moorabbin Air Museum
, Melbourne, Victoria, December 1966-2002.
- Fuselage recovered from farm in Colac, Victoria, December 10, 1966.
- Originally displayed as A29-53 and mounted on Mustang mainplane.
- Later displayed as fuselage only.
- Under restoration for static display using mainplane constructed from parts of other P-40 projects.
---
Source(s):
Chapman, John & Goodall, Geoff, Edited by Paul Coggan -
Warbirds Directory
,Warbirds Worldwide Ltd., Mansfield, England, 1989.
Goodall, Geoff -
Warbirds Directory-4th Edition
, 2003.
Photo Source(s):
Dave McDonald via Mike R. Henniger
---
WARBIRD REGISTRY
>
P-40 REGISTRY
>
PREVIOUS PAGE
---