---
WARBIRD REGISTRY
>
AIRACOBRA REGISTRY
>
PREVIOUS PAGE
---
P-39 AIRACOBRA/44-3887
---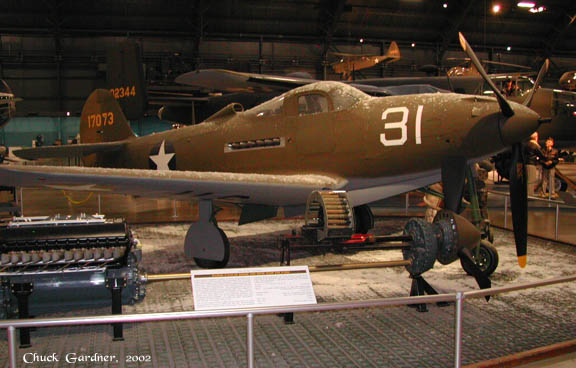 ---
Serial #: 44-3887
Construction #: ?
Civil Registration:
None

Model(s):
P-39Q Airacobra
RP-39Q
TP-39Q
Name: None
Status: Displayed
Last info: 2002

---
History:
Jack B. Hardwick/Hardwick Aircraft Co, El Monte, CA, 1947-1966.
- Trucked from airfield in IL to El Monte.
- Stored derelict in Hardwick's yard, El Monte, CA.
- Rebuilt to airworthy as single seat P-39Q.
- Flown to Wright Patterson AFB, July 1966.
USAFM, Wright-Patterson AFB
, Dayton, OH, July 1966-2002.
- Displayed as 43887/31 (later 17073/31).
- Painted as a P-39J flown by Lt. Leslie Spoonts of the 57th Fighter Squadron in 1942.
---
Source(s):
Chapman, John & Goodall, Geoff, Edited by Paul Coggan - Warbirds Directory,Warbirds Worldwide Ltd., Mansfield, England, 1989.
Goodall, Geoff - Warbirds Directory-4th Edition, 2003.
Photo Source(s):
Chuck Gardner - Warbirds Resource Group, www.warbirdsresourcegroup.org, 2002

---
WARBIRD REGISTRY
>
AIRACOBRA REGISTRY
>
PREVIOUS PAGE
---