---
WARBIRD REGISTRY
>
AIRACOBRA REGISTRY
>
PREVIOUS PAGE
---
P-39 AIRACOBRA/42-20000
---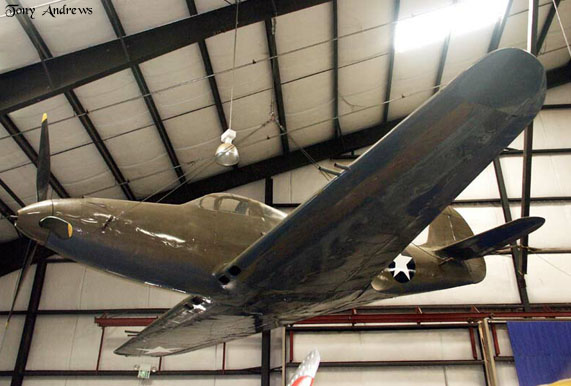 ---
Serial #: 42-20000
Construction #: ?
Civil Registration:
None

Model(s):
P-39Q Airacobra
Name: None
Status: Static Display
Last info: 2002

---
History:
David Tallichet/Yesterdays Air Force/MARC, Chino, CA, 1974-1985.
- Recovered by d'E. C. Darby & N. M. Armstrong for YAF from Tadji, West Sepik, PNG, 1974.
- Restored to static display and presented to March Field Museum.
March Field Museum
, Riverside, CA, 1985-2002.
- Displayed suspended from ceiling.
---
Source(s):
March Field Museum, http://www.marchfield.org/index.html, 2002
Goodall, Geoff - Warbirds Directory-4th Edition, 2003.
Photo Source(s):
Tony Andrews.

---
WARBIRD REGISTRY
>
AIRACOBRA REGISTRY
>
PREVIOUS PAGE
---