---
WARBIRD REGISTRY
>
BIRD DOG REGISTRY
>
PREVIOUS PAGE
---
Cessna Bird Dog/N3946L
---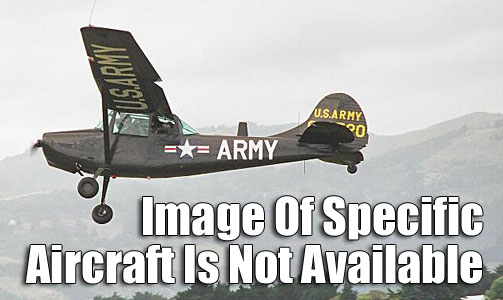 ---
Serial #: ?
Construction #: ?
Civil Registration:
N3946L

Model(s):
L-19E Bird Dog
Name: None
Status: Destroyed
Last info: 1983

---
History:
Ray Butters, Conroe, TX, 1983.
- Registered as N3946L.
---
NTSB Identification: FTW88DRA11 .
The docket is stored on NTSB microfiche number 36709.
14 CFR Part 91: General Aviation
Accident occurred Saturday, April 30, 1988 in CONROE, TX
Probable Cause Approval Date: 7/26/1989
Aircraft: CESSNA L-19E, registration: N3946L
Injuries: 1 Fatal, 1 Serious.
THE AIRPLANE WAS OBSERVED BY WITNESSES MAKING A CHANDELLE-LIKE MANEUVER FROM TAKEOFF. AT THE TOP, THE NOSE AND RIGHT WING DROPPED FOR APPROXIMATELY 180 DEGREES OF TURN. THE WINGS WERE ALMOST LEVEL WHEN THE AIRPLANE HIT THE RUNWAY. THE AIRPLANE BURNED AFTER IMPACT.
The National Transportation Safety Board determines the probable cause(s) of this accident as follows:
MANEUVER..INTENTIONAL..PILOT IN COMMAND
FLIGHT CONTROLS..IMPROPER USE OF..PILOT IN COMMAND
STALL/SPIN..INADVERTENT..PILOT IN COMMAND
Contributing Factors
JUDGMENT..POOR..PILOT IN COMMAND

---
---
WARBIRD REGISTRY
>
BIRD DOG REGISTRY
>
PREVIOUS PAGE
---